Obi-Wan Finale - The Loop
Play Sound
You Can't Take It With Jules is the eleventh episode of the first season, and the eleventh episode overall.
Summary
[
]
A Christmas visitor threatens to upend Julien's life, while a new friend pushes Zoya to chart her own path. Ahead of a bombshell drop, Kate, Jordan, and Wendy clamor for control of Gossip Girl.
Plot
[
]
SPOILERS AHEAD
Cast
[
]
Starring
[
]
Guest Starring
[
]
Megan Ferguson as Wendy
Ella Rubin as Bianca Breer
Katherine Reis a Pippa Sykes
Julie Halston as Sharon
Angelica Zambrana as Tati
Grace Duah as Shan Barnes
Jonathan B. Wright as Klaus
Kathryn Gallagher as Heidi Bergmann
Ann Magnuson as

Donna Calloway

Cole Doman as

Rex Huntington

De'Laney Ortiz as

Jamison
Featuring
[
]
Taylor Mac and The Holiday Sauce Band
Co-Starring
[
]
Peter Grosz as Mr. Spencer
Jeanette Bonner as Payton Sykes
Stacey Van Gorder as Barrett Brier
Dr. Orna Guralnik as Herself
Mikey Friedman as Enzo
Marcus Brandon as ST. Ann's Warehouse Security
Jonathan Gomolka as ST. Ann's Warehouse Clerk
Maya Rosewood as Personal Shopper
Stephan Godleski as Delivery Man
Evangeline Johns as Old Woman
Machine Dazzle as Christmas Tree
Soundtrack
[
]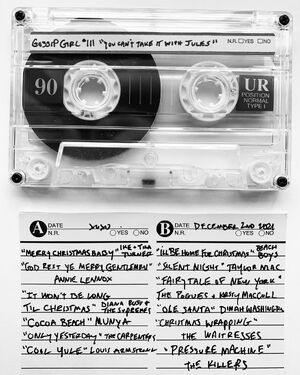 "Merry Christmas Baby" by Ike + Tina Turner
"God Rest Ye Merry Gentlemen" by Annie Lennox
"It Won't Be Long Til Christmas" by Diana Russ + The Supremes
"Cocoa Beach" by MUNYA
"Only Yesterday" by The Carpenters
"Coal Yule" by Louis Armstrong
"I'll Be Home For Christmas" by Beach Boys
"Silent Night" by Taylor Mac
"Fairytale of New York" by The Pogues + Kirsty Maccoll
"Ole Santa" by Dinah Washington
"Christmas Wrapping" by The Waitresses
"Pressure Machine" by The Killers
Memorable Quotes
[
]
Gossip Girl: Is there anything merrier than Christmas in New York? That, dear followers, depends on if you've made my naughty or nice list. Are you trying to wipe the slate clean, but coming up short? Pining for happier holidays past? Maybe wishing you could avoid the holidays altogether this year? Or are you drowning your sorrows the old-fashioned way, with some therapeutic online shopping? Whatever the reason for your season, my lovelies, rest assured that Gossip Grinch is watching and waiting. Waiting to snatch your presents right out from under your nose.
Gossip Girl: They say it isn't the holidays until somebody cries. But that doesn't mean they can't be happy tears. Because the holidays aren't about conflict, they're about resolution. It's a time to put the ghosts of Christmas Pasts behind us. A time to grab our Christmas Futures by their bony hands without fear, only excitement about what's to come. But you can't do that without facing the past. Facing what you've done. And nobody knows better what you've done than me. Your confessional. Your therapist. Your friend who tells you the truth. Or do I? I don't think I've been entirely honest. How could I be, anonymously? So maybe it's time to give you the best gift I can offer. I told you I saw you, but I meant I saw through you. And it's not fair for me to be the only one with that superpower. So this Christmas, I'm giving it to you. And while you may think you don't deserve it, I know it's just what you need. I made my list. I checked it twice. You know you've been naughty. Now pay the price. X-ho-ho-ho, Gossip Girl.
Trivia
[
]
Katheryn Gallagher (Heidi Bergmann) and Elizabeth Lail (Lola Morgan) appeared on the first season of You, where they play friends.
Cultural References
[
]
Locations
[
]
Food and Drink
[
]
Gallery
[
]
Photos
[
]
Videos
[
]
References
[
]