She-Hulk Trailer Dropped - The Loop
Play Sound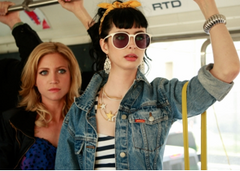 Valley Girls was a potential Gossip Girl spin-off, set to serve as a prequel to the original series. With the twenty-fourth episode of Gossip Girl's second season, "Valley Girls," serving as a backdoor pilot, Valley Girls was set to follow the life of a young Lily Rhodes after being kicked out of boarding school and wandering around California with her older sister, Carol.
On May 12, 2009, the CW officially announced it would not pick Valley Girls up for series.[1]
Cast
[
]
Setting
[
]
Whereas Gossip Girl followed the lives of Manhattan's elite in New York, Valley Girls would had follow Lily Rhodes and her sister during their escapades in the San Fernando Valley and Los Angeles.
Series continuity
[
]
The O.C.

[

]
With the production and development of the Valley Girls television series, creator Josh Schwartz had planned on establishing a continuity between the worlds of Gossip Girl and his previous series, The O.C., with the intention of introducing younger versions of some of his O.C. characters, such as Kirsten Nichol and Jimmy Cooper. However, as Valley Girls was not picked up for series, the plans for a continuity with The O.C. were never realized.
Continuity issues
[
]
Keith van der Woodsen
[
]
Keith van der Woodsen, introduced in Gossip Girl's season two episode "Valley Girls," was originally thought to be a younger version of Lily Rhodes's future ex-husband and father to her children, Serena and Eric van der Woodsen. With the introduction of William van der Woodsen in the season three episode "Dr. Estrangeloved," however, a major continuity issue arose over these characters' identities. Could Keith van der Woodsen be the brother or a cousin of William, or did the writers simply rename the character? To date, there has been no resolution to this issue on-screen.
However during season 3 (on 12/12/09) there was a Casting Call released that stated they were looking for an actor to portray: 
[KEITH VAN DER WOODSEN] Early 40s.,male, Caucasian, upscale. A handsome and charming commercial director. Serena and Eric's paternal uncle. Preferably blonde. Guest Star.
This makes Keith van der Woodsen William's brother. His older version was about to get introduced in the show in season 3 but producers decided not to add more characters to "S's Daddy Issues" storyline. However, this was never revealed in the show itself so this answer could be considered non-canon.
References
[
]