‍ ‍ to Gossip Girl! The site ABOUT the Upper East Side, FOR the Upper East Side, and BY the Upper East Side!


‍ ‍ The latest "411" on all the in people.
‍ ‍ Archives


‍ ‍ See what the fashionistas of the UES are wearing.
‍ ‍ CURRENT PHOTO GALLERY


‍ ‍ Your invitation was probably lost in the mail! But don't worry, we'll let you know what you missed.

Spotted: Love is in the Air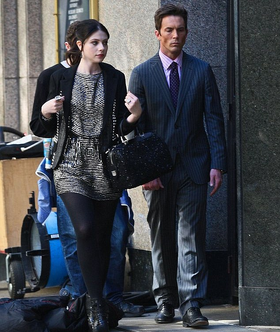 Spotted: G and Uncle Jackass making their official debut as a couple at the VDW's party. It seems even the spawns of Satan can find true love... Meanwhile, Rufus and Lily also spotted lip-locking once again. Will things work out between these two after she ditched him for a Billionaire Bass? S shopping at Bergdorf's for a new dress to wear for the party tonight, with Ivy. Hmmm... Are these fake cousins working things out or is there a bigger agenda at play here? N prepping his big campaign speech for the New York City mayor's position at The Empire bar. Awww, our little N is all grown up! And who's cheering on the sidelines for him? None other than little Jenny Humphrey. B and D spotted together on the streets of Brooklyn... will S and C have something to say about this? We hope they're strictly friends. Best of all, Juliet Sharp is back in town, but what intrigues me the most is that one Lola Rhodes was there to greet her... Summer might be over, but the gossip is just beginning.
xoxo GOSSIP GIRL
Every Saturday at 6/5c, only on GG Wiki.
Community content is available under
CC-BY-SA
unless otherwise noted.