She-Hulk Trailer Dropped - The Loop
Play Sound
Parentsite is the sixth episode of the first season, and the sixth episode overall. It serves as the finale of part one.
Summary
[
]
When Obie's mother comes to town, Zoya begins to question his nature – and nurture. Julien's decision to take her brand to the next level leads her down a path of self-discovery. Kate's personal and professional lives collide at full force. Aki and Max come together to support Audrey.
Plot
[
]
SPOILERS AHEAD
Cast
[
]
Starring
[
]
Guest Starring
[
]
Co-Starring
[
]
Gigi Stone Woods as Herself
Shari Abdul as Maya
Hannah Seusy as Nurse
Jason Liebman as Dr. Gibson
Zach Altman as Restaurant Host
Eddie Carroll as Glossier Rep
Claudia Maree Mailer as Goop Rep
Constance Zaytoun as Revlon Rep
Diane Dehn as Ulta Rep
Ayumi Patterson as Marjorie
Soundtrack
[
]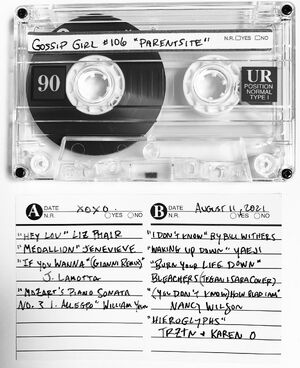 "Hey Lou" by Liz Phair
"Medallion" by Jenevieve
"If You Wanna" (Gianni Brezzo Remix) by J.Lamotta
"Mozart's Piano Sonata No. 3: I. Allegro" by William Youn
"I Don't Know" by Bill Withers
"Waking Up Down" by Yaeji
"Burn Your Life Down" (Tegan & Sara cover) by Bleachers
"(You Don't Know) How Glad I Am" by Nancy Wilson
"Hieroglyphs" by TRZTN & Karen O
Memorable Quotes
[
]
Gossip Girl: Greetings, followers. Gossip Girl here. Your one and only, period. There are obvious upsides to being the children of the world's most influential people. But the biggest? The luxury of choice. While the majority of the world has little to no say in what they can and cannot do, the elite get to choose whatever they want whenever they want it. Choice in where they live, what they eat, who they speak to. Even choice in who they deign to spend their time with. But there's one thing not even they get a say in. No one gets to choose their parents. And as pour moi? Consider me the au pair you never knew you needed. You can come cry on my shoulder in secret any time. And you'll want to. Because no matter where you come from or who you are, family is anything but easy, and no one survives it alone.
Gossip Girl: Spotted. A lone Wolfe dropping by a hospital to pick up more than Hope's spirits. Take a seat, PSATs. The test students should be most worried about is one you can't study for. HMO, PPO, EPO? If you've cozied up to Max Wolfe lately, I hope you have all your docs on speed dial.
Gossip Girl: Spotted. Hot for teacher plus hot for a teacher. Seems Z Daddy may be confusing PTA with PDA. Whatever's going on, it's my kind of after school special.
Gossip Girl: There comes a moment in every child's life when you realize the horrible truth that's been hid from you all along. Your parents are human. Just like you. They make mistakes and then repeat them. They act in their own self interests and lie to themselves to feel better. They cheat, manipulate, obfuscate, and evade. But most of all, they do not learn. Therapy may help identify your issues, but once created, they're there forever. It's how you react to them that can change. And that is amongst the hardest things to do. The plain and simple truth is that it feels better to be bad than do good. 'Cause at some point, if everyone else is being human, you might as well be human too. But don't worry, you'll pay for it later. XOXO, Gossip Girl.
Trivia
[
]
This episode marks the first episode in which a main character does not appear. In this case, Monet De Haan.
Cultural References
[
]
This episode's title is a reference to the 2019 film, "Parasite". It is also the first title of the season that references a 2000s film.
Parentsite is the finale of the first half of Season 1, advertised as the "part one finale". The remaining six episodes will air in the Fall of 2021.
Locations
[
]
Food and Drink
[
]
Gallery
[
]
Photos
[
]
Videos
[
]
References
[
]