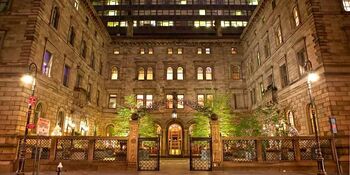 The New York Palace Hotel (also called the New York Palace or simply the Palace) is a grand luxury four-and-a-half star landmark hotel along Madison Avenue in Midtown Manhattan. It is one of the real New York City landmarks used in the show.
The Palace is introduced in Pilot and is shown intermittently throughout the series.
Residents and Ownership
Ownership
Resident(s)
Former resident(s)
History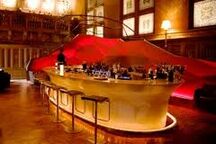 In
Pilot
, Serena and
Blair Waldorf
meet for drinks in the bar. Afterwards, Chuck attempts to force himself on Serena in the restaurant kitchen but she's able to free herself. Chuck's suite makes it's first appearance in 
The Wild Brunch
, when Chuck and 
Nate Archibald
 wake up after the Kiss on the Lips Party. In
Bad News Blair
, Chuck and Nate throw a Lost Weekend party in the suite.
In The Blair Bitch Project, it's revealed that Chuck moved out of his suite into the hotel's penthouse with his father, along with Serena, Lily, and Eric. However, after Serena receives inappropriate gifts and mistakenly assumes Chuck is messing with her, Bart kicks Chuck out of the penthouse and he moves back to his suite. In the season finale Much 'I Do' About Nothing, Bart and Lily introduce Chuck to the interior decorator for Lily's penthouse, since they'll all be moving there after the summer ends.
After the death of Bart (It's a Wonderful Lie) and a tantrum at the funeral, Chuck moves out of the VDW penthouse back to his suite at The Palace. However, after making things better with Lily, he moves back in with them in You've Got Yale!.
At the beginning of the third season, Chuck has seemingly moved back to his Palace suite. When Serena decides to not go to Brown University, she briefly moves in with him. However, they have a falling out and she moves back to the VDW penthouse (The Freshmen). Chuck resides in the suite until he purchases The Empire Hotel in The Lost Boy. After this, he is never seen in his suite at the Palace again.
In Damien Darko, Chuck agrees to let Blair use The Palace as the location of W Magazine's party.
Community content is available under
CC-BY-SA
unless otherwise noted.