Jurassic World: Dominion Dominates Fandom Wikis - The Loop
Play Sound
Hope Sinks is the fifth episode of the first season, and the fifth episode overall.
Summary
[
]
As Halloween approaches, Zoya and Julien decide to team up. Meanwhile, an incident at a nearby school finds all eyes on Gossip Girl, leading Kate to question her future. Aki intervenes in Max's personal life, and Audrey panics over her own. Zoya's new friend has Obie worried.
Plot
[
]
SPOILERS AHEAD
Cast
[
]
Starring
[
]
Guest Starring
[
]
Special Musical Guest
[
]
Marc Shaiman
Billy Porter
Co-Starring
[
]
Pat Kiernan as NY1 Reporter
Tamara Fay as Celeste
Ross Jirgl as Bartender
Tanner Bolin as Bowie Guest
Jason Liebman as Dr. Gibson
Claire Leyden as York Teacher
Soundtrack
[
]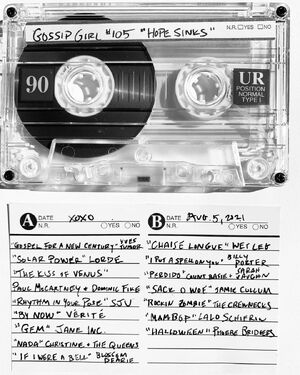 "Gospel For A New Century" by Yves Tumor
"Solar Power" by Lorde
"The Kiss Of Venus" by Paul McCartney & Dominic Fike
"Rhythm In Your Pose" by SJU
"By Now" by Vérité
"Gem" by Jane Inc.
"Nada" by Christine and the Queens
"If I Were A Bell" by Blossom Dearie
"Chaise Longue" by Wet Leg
"I Put A Spell On You" by Billy Porter (Live Performance)
"Perdido" by Count Basie & Sarah Vaughn
"Sack O' Woe" by Jamie Cullum
"Rockin' Zombie" by The Crewnecks
"Mambop" by Lalo Schifrin
"Halloween" by Phoebe Bridgers
Memorable Quotes
[
]
Gossip Girl: Good afternoon, followers! Gossip Girl here, your one and only, etcetera, amen. Oscar Wilde once said, "Give a man a mask, and he will tell you the truth," which is why I love Halloween. Because what was once created to honor the dead tends to leave bodies in its wake. For when you don your disguise, the false sense of security it provides always leads to loose lips that'll sink both friends and relationships before dawn's early light. But I don't wanna spoil the fun. After all, the biggest scares are the ones you never see coming. See you on the other side, dead or alive.
Gossip Girl: Halloween is the perfect time for secret rendezvous. But looks like Z forgot the most important part. Her mask. And so this dynamic duo's spotted again hiding in plain fright. Something tells us this is going to cause one monster of a scene between her and Noble O.
Gossip Girl: You thought I went somewhere? Well, I'm back. And better than ever. Yes, maybe I'd begun to wonder if I was abusing my considerable power, when I realized you're the ones who do that, not me. I'm not your parent, your teacher, or your friend. I'm your mirror. I show you your bad parents, your absent teachers, your errant friends. But if there's one thing this moment of reflection showed me, it's that this isn't a place for you to speak. I'm turning off the comments from now on. Mine is the only voice you need to listen to anyway, because if you were kinder to one another, more honest, if you had the hard face-to-face conversations, you wouldn't need me. But you don't. You bring a gun to school. You sneak out on your boyfriend. You hide behind your phones. So keep your masks on all year if you want to. But know I'll be here keeping count, keeping you in check, reflecting what you refuse to see is right in front of you.
Trivia
[
]
This episode's title references the 1998 film, "Hope Floats".
Hope Sinks is the second episode in the Gossip Girl universe to celebrate Halloween. The 2007 series celebrated Halloween in the Season 3 episode How to Succeed in Bassness.
Serena van der Woodsen, Blair Waldorf, Chuck Bass, and Dan Humphrey are mentioned throughout the episode, with characters from the 2021 series dressing up as the iconic New Yorkers for the Hulaween party. The rivalry between Serena and Blair is now infamous, with even Chuck and Dan earning a spot in the A-listers.
Zoya delivers Chuck's iconic line, "I'm Chuck Bass", whilst dressed as him and hugging the look-alike Blair Waldorf.
"Hope Sinks" is the first episode of the 2021 series to feature a cast member from the original series. Yin Chang reprises her 2007 role of Nelly Yuki. While "Fire Walks With Z" saw the return of Milo Sparks, he was portrayed by a new actor.
Audrey mentions that her mother Kiki Hope is from Cornwall, Connecticut. Cornwall is also the location of Serena van der Woodsen's boarding school that she fled too prior to the Pilot episode. Blair later visited Cornwall and realized Serena attended the Knightly School of Cornwall.
Julien and Audrey mention two New York icons pushing one another into a fountain. This alludes to the Season 4 episode "Belles de Jour" of the original Gossip Girl, in which Serena and Blair fight outside a restaurant, and Blair subsequently shoves Serena into a fountain.
Beyoncé, Jay-Z and Solange are mentioned. As is the iconic elevator incident in which Solange attacked Jay-Z upon learning he had cheated on Beyoncé.
Luna tells Julien that Gaten Matarazzo DM'ed to tell Julien that he knows what it's like having to play nice with co-stars and understands what she's doing with her sister. Gaten is one of the stars of the hit Netflix television series, Stranger Things.
When brainstorming iconic sisters, Julien mentions a slew of famous sisters.

The first is Jo and Amy. The sisters are characters in the Louisa May Alcott novel Little Women, with Jo being the fierce feminist ahead of her time and Amy the quieter yet artistic sister. The two had a love triangle with their next door neighbor Laurie, as he was interested in Jo while Amy had a secret crush on him. Incidentally, Audrey's Halloween costume was of a character from Little Women.
She also mentions Elsa and Anna from the Disney movie, Frozen. Elsa was a Queen with ice powers while Anna didn't have powers but still managed to save the kingdom in her own right.
Zoya mentions Celie and Nettie from the 1985 film The Color Purple. Celie was married off to a man she didn't love but dreamt of meeting her long-lost sister who lived in Africa, Nettie.
Julien mentioned Katniss and Prim from The Hunger Games franchise.
Zoya mentions Cordelia and Goneril who are characters in the tragic Shakespeare play Kings Lear.
Julien mentions the Lohan's, doing two Lohan's. The most famous Lohan is the actress and TV personality Lindsay Lohan. The two Lohan's might be a reference to Lindsay's 1998 film The Parent Trap which followed twin sisters who didn't know of each others existence until Summer camp.
Zoya mentions Elena and Lila from the 2018 mini drama series My Brilliant Friend. The series ironically was available on HBO Max, the same network that airs Gossip Girl.
Julien wants to do all of the Olsen's. The most famous Olsen's are the fashion mogul twins Ashley and Mary Kate Olsen and the award winning actress Elizabeth Olsen.

Bruce Willis is mentioned as eyeing Audrey Hope across the room at the Hulaween party. Bruce Willis is a successful American action-film star whose personal life is notorious for dating women significantly younger then him.
Gallery
[
]
Promotional
[
]
Official Costumes
[
]
Videos
[
]
References
[
]