Gossip Girl Mistakes highlights storyline bloopers, visual slip ups in the show, or things that are possibly retconned.
SPOILERS IN ARTICLE AND COMMENTS.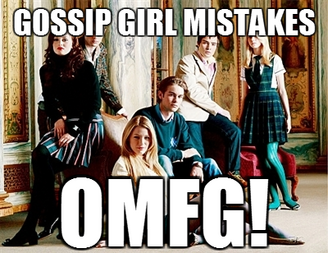 Lily's birth year is revealed to be 1969 via her passport. Valley Girls is set in 1983, when Lily should have been fourteen. However, she drives a car, which would be illegal due to her age.
When Jenny and Vanessa fight about Nate in Jenny's room, the front door to the loft goes from wide open to ajar to back to wide open depending on the shot (It's a Wonderful Lie).
On Bart's bill for payment to Andrew Tyler, Jonathan Whitney's last name is listed as Henry but it's later stated to be Whitney (It's a Wonderful Lie).
When Serena calls Max, her phone is briefly shown to just be on the home screen and not on an actual call (Rhodes to Perdition).
Nate talks to Chuck in the kitchen and his lip suddenly becomes swollen for the rest of the episode (The Princess Dowry).
In the flashback, Blair's apartment is shown to be the way it was through the whole series and nothing like it was in Pilot (New York, I Love You XOXO).
Other
Community content is available under
CC-BY-SA
unless otherwise noted.