Fire Walks With Z is the fourth episode of the first season, and the fourth episode overall.
Summary
[
]
Zoya's attempts to avoid her birthday are no match for Luna and Monet's warpath. While Julien escalates tensions, Nick and Davis put down their arms. Bad news sends Max on a bender, Audrey levels with Aki, and Kate gets an exciting opportunity.
Plot
[
]
SPOILERS AHEAD
Zoya Lott wakes up to the latest Gossip Girl post, which reveals today is her 15th birthday. In Brooklyn, Obie Bergmann IV confirms a mysterious order. Aki Menzies and Audrey Hope both call Max to no avail. Rafa Caparros himself even scrolls around Max's Instagram, the student in his thoughts. Julien Calloway holds up a picture of her mother before setting it down and going live on Insta - she preaches to her band of followers her thoughts of looking in the mirror and prepping to become the best she can, and realizing that maybe she's already at her best when she wakes up. She vows she's going to clean and will effortlessly be herself. She encourages her followers to follow her new motto, but only two become provoked. Monet de Haan and Luna La look disgusted at Jules' new approach, hoping that when JC is back on top, they will too. Julien attempts to text Zoya a happy birthday message but can't seem to bring herself to do so. She gets distracted by the sound of a belated Lola in the kitchen, who greets her. She says she saw her story and agrees with her new choices, suggesting a nude Dior makeup to try. Julien declines, as it contradicts her transparency message. Lola awkwardly backtracks and points at the table of luxury boxes Julien gets for free as an influencer. The blonde admits she deep-dived Julien's Insta last night to figure out how she got so famous, as she's trying to do the same as a singer. Julien announces she's leaving, but Davis stops her and asks if it's too weird. However, Julien refuses to let him keep secrets and wants him to be happy.
Nick apparently is looking for his suitcase and asks Zoya if it's on the table, but she finds a wet with a candle on it. She tries to run but Nick wants her to blow out the candle. She does so reluctantly, Nick catching on she didn't make a wish. She wants her birthday to pass relatively normally and insists there's bigger things going on in the world instead of getting sent birthday memes. She thinks Julien sent her birthday in to Gossip Girl and blames her, but Nick doesn't think so. He receives an envelope under the door, but informs his worried daughter it's just a sing-up sheet for trick-or-treaters. Zoya reiterates her wish for a normal day.
Aki arrives via skateboard in front of the school and sees Obie having reserved three different sweet trucks and shops simply for Zoya. Obie, still under the impression Aki has been with another girl, asks how he and Audrey are. Aki admits they've been avoiding each other. Obie, amused by being the one to give out advice, offers he talk to Audrey and void kissing other girls.
Audrey and Julien walk hand-in-hand to school together, the former jealous at the latter's no need for makeup and offers a quick condolence to Julien's late mother. Audrey, her turn to be talked about, talks to Julien about how she's agreed with Aki to ignore their dalliances with Max, but their dynamic has shifted. Now knowing he's attracted to men, she's confused if he's bisexual or gay. Julien recommends she ask him herself and to not judge him or his response, and also stay away from Max. She gets distracted by the crepes cart and run to it, but stops in her tracks at the sight of Aki, who runs off when he sees her. Jules greets Monet and Luna, who stated they love her but appalled - not because Obie never did a gift like that for her but the fact she has no makeup or filter on. Luna says her followers don't care how she can be more like them. JC lets her desire to be more real, honest and vulnerable be known, but Monet reports vulnerability is the disease of the masses. She tries to convince Julien she's cold and unattainable royalty. Luna pipes up that she's heard a friend is willing to give Julian a shot in Vogue, but JC's more interested in getting a crepe. Monet is shocked but Luna says it was a lie to see how far gone she was. Monet bemoans all the years of hard work will have gone to waste, and confides she doesn't want to work with her mom in biotech. Luna assures her the first missile to get back to the top has been launched, and will hit if it hasn't already.
Zoya arrives to the scene, pleasantly surprised at Obie's birthday treats. Flustered, Zoya says she doesn't celebrate her birthday. Obie wonders if it's a religious thing, but Zoya admits it's also the anniversary of her mom's death. Realizing this, Obie announces he'll clear up the trucks and begins taking away the sign. Julien approaches her and tries to wish her a happy birthday, but Zoya confronts her and asks if she tipped Gossip Girl. Julien denies it but Zoya angrily suspects she's trying to fuck with her, forcing the former to walk away confused. Jordan Glassberg and Wendy look down on the students above from the window of the teachers' lounge, turning away as Kate Keller approaches. She complains how running the account is become a full time job, with students from other private schools sending in DM's on top of the students here. She can't form her lesson plans until after they go to bed which is never. What's worse, she received something good for herself - a friend from the Writers' Workshop who works for The Paris Review is looking for undiscovered writers. Kate feels she doesn't have enough time. Jordan and Wendy offer to work the account given Kate never lets them steer the wheel. Kate's unsure, given today is Zoya's birthday and anything can happen but Wendy doesn't think so. She relents but urges them to let her know if anything happens.
Luna approaches Zoya and claims that as her closest Constance confident (Zoya disagrees), she felt Zoya must know Julien doesn't want her here, that she's sick of "constant, disrespectful displays of attention" and desires ways return to how it used to be. Zoya is doubtful. Luna coyly says JC is using something against her and she feels partly responsible, but walks away without another word. Aki and Audrey accidentally run into each other as they are both contacting Max - they both play it off as talking to other people and quickly bid each other goodbye. The boy passes by Rafa, who walks up to Kate and their colleagues and asks if she heard about any recent tips regarding Max. Kate says beyond the usual reports nothing significant popped up. Rafa says he's missed class for a week now, and wants to know when they receive anything about him. Wendy says they will.
Obie apologizes to Zoya in that he should have known better. Zoya admits she prefers to keep her birthday low-key. Obie still wants to celebrate her, but could only bring up the idea of a party. He mentions dinner as a possibility with her and her dad. Zoya agrees to call her dad about it - however, Nick is acting suspicious over the phone. Reluctantly, her father reveals an anonymous tip informed their housing board they're living in their grandmother's apartment without her. A smirking Luna and Monet hover over them, the latter sending a tip to Gossip Girl. Wendy receives the notification alongside Jordan in the hallway - they block Kate from seeing it. Wendy struggles to write in GG's voice so Jordan takes over. Rafa witnesses an intoxicated Max bidding three nurses goodbye kisses as he arrives. In the hallways, the students receive the latest blast.
Jordan communes with Monet and Luna in the bathroom, confused and angry that Zoya is planning an attack on her when she hasn't done any terrible to deserve it. She acted totally fine when her ex boyfriend filled Fifth Avenue with food trucks with her and was nothing but nice to her. Luna says Zoya's been waiting to take her down and found something to do it with. Julien is in disbelief - Monet urges her that there can only be one throne and that they need a show of force. For a moment Julien thinks they want her to murder Zoya, but Luna elaborates only socially - but throwing a party. Luna says she has never needed to play defense since no one stood in her way, but that changed when Zoya came here. JC is still confused why throwing the party is the answer. Monet replies the noise will be louder than the bomb she's playing, and advises her to call her dad for a favor.
At the MET steps, Zoya is
WORK IN PROGRESS BESTIES XOXO
Cast
[
]
Starring
[
]
Guest Starring
[
]
Special Musical Guest
[
]
Co-Starring
[
]
yoko Hyun as Shika
Ivan Carlo as Ravi Solis
Kande Amadou as Greeter
Amelia Sipkin, Sadie Lock, Chloe Bryan as Buffalo Classmates
Soundtrack
[
]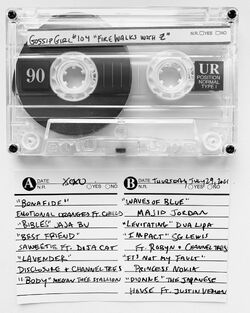 "Bonafide" by Emotional Oranges featuring Chiiild
"Bibles" by Jaja BV
"Best Friend" by Saweetie featuring Doja Cat
"Lavender" by Disclosure and Channel Tres
"Body" by Megan Thee Stallion
"Waves of Blue" by Majid Jordan
"Levitating" by Dua Lipa
"Impact" by SG Lewis featuring Robyn and Channel Tres
"It's Not My Fault" by Princess Nokia (Live Performance)
"Dionne" by The Japanese House featuring Justin Vernon
Memorable Quotes
[
]
Gossip Girl: Good morning, followers. Gossip Girl here. Or should I say "still here"? You thought I was a person, but I never said I was. I'm a revolution. And today's act of rebellion? We know it isn't nice to reveal a lady's age, but secret sources tell us Zoya Lott is 15 today. Happy birthday, Z! May you deserve whatever you get. In New York, there are only two ways to celebrate a birthday. You either go big, or you don't exist. But not to fear. Something tells us this Z-day will live in infamy. Because if it doesn't, then y'all ain't doing it right. Suit up, sweeties, and let's see who'll be the last manqué standing.
Gossip Girl: Hey followers. We all know there's no such thing as a civil war. Spies tell us a certain someone has drawn her own Mason-Dixon line, with herself on one side and her sister on the other. But everyone knows a divide isn't enough. You have to conquer as well. And there's a cannon pointed in only one direction. What's in it? You'll find out when you hear the sirens. Take cover, my pretties. The glitzkrieg is coming!
Gossip Girl: This just in. We hear a tale of two sisters may have a happy ending after all. Word is their fathers forced a sisterly cease-fire. But does tonight's newly-conjoined celebration signal a signed treaty, or a Trojan Horse? Time to play truce or dare.
Gossip Girl: All right, followers. Time to face the music. Looks like the war is finally over. But the thing about when wars end? Nobody is ever the same again. When the dust has settled and the smoke clears, only then can we finally face what we've done. No one returns from war unchanged. We come back strangers. Not only to those around us, but to ourselves. And slowly, little by little, we either remember who we used to be, or we allow ourselves to become someone new. Who will you be, now that this is over? I don't know about you, but since it wasn't the end of the world, I feel fine. Scratch that. Better than fine. Finally free, effortlessly yours. XOXO, Gossip Girl.
Trivia
[
]
The iconic 2007 Gossip Girl characters Georgina Sparks and Blair Waldorf are seen in photographs. Georgina, however, is the only one mentioned directly and throughout the episode.
Milo Sparks returns for the first time since his infancy in Gossip Girl. He is now a ten-year-old freshman at Constance Billard St. Jude's School who brilliantly orchestrates online movements for the popular kids at school.
The photo of Vladimir Putin was originally a single large portrait, but Joshua Safran changed it to a small photo with Georgina to allow for a larger photo of Blair.[1]
This episode's title references the 1992 film, "Twin Peaks: Fire Walks With Me", a prequel/sequel to Twin Peaks.

The film focuses on the murder of one woman and the last seven days of the most popular girl in school, Laura, am active drug user who routinely cheats on her boyfriend.

Jennifer Lynch, the daughter of David Lynch, directed both Lies Wide Shut and this episode.
Monet mentions the "Imagine" music video, saying that Julien was involved. This was a cultural event in 2020 when numerous celebrities' recorded themselves singing segments of the John Lennon song Imagine, as an attempt to lift peoples spirits during the 2020 quarantine event.
Photographs of North Korean dictator Kim Jung-Un, Russian president Vladimir Putin, billionaire Elon Musk, and singer-songwriter Ed Sheeran are shown. They are pictured alongside Georgina Sparks.
Ivanka Trump is mentioned as having given Milo Sparks his housekeeper/nanny.
Hailey Bieber is mentioned as having worn a dress to Erewhon that was similar to one Julien wore at a separate event.
The controversial English actress and activist Jameela Jamil is mentioned when Julien's fat-shaming tweet resurfaces. Audrey notes that Jameela defended Julien's tweet.
The fight between Kim Kardashian and rapper Kanye West is referenced when Audrey draws connections between Zoya and Julien to the famously rocky couple.
The French actress and supermodel Lily-Rose Depp is mentioned. She is the daughter of infamous actor Johnny Depp. Milo takes credit for giving Lily E. Coli at Luna's request. The event took place in 2007 and was heavily reported on in the news as the illness caused her to have kidney failure at age seven. However, this creates a continuity error as Milo wasn't born until 2010.

However, it's possible the history in Gossip Girl with events is different from real life.
Gallery
[
]
References
[
]