Obi-Wan Finale - The Loop
Play Sound
Final Cancellation is the tenth episode of the first season, and the tenth episode overall.
Summary
[
]
In her efforts to save Julien from a vicious smear campaign, Zoya puts her own future at risk. Kate and Jordan hatch a last-ditch plan to reclaim Gossip Girl. Audrey and Aki rope an increasingly resentful Max into both of their schemes.
Plot
[
]
SPOILERS AHEAD
Cast
[
]
Starring
[
]
Guest Starring
[
]
Co-Starring
[
]
Brianna Keilar as Herself
Victoria Lily Robertson as Sophomore Girl
Brennan Gomillion as Student
Serena Berman as TA
Tyler Arrington as Isiah
Scott Richard Foster as Constance Coach
Gayla Kornbluh as Freshman Girl #1
Shira Fisler as Freshman Girl #2
Melissa Lehman as Bar Hostess
Yili Jin as Fan
Marcel Werder as Crowd Member
Luka Danilovich as Leo
Aubin Bradley as

Ana

Nate Washburn as Micah
Delaney Grace Coyle as Stan Leader
Ruby Goodman as Stan #2
Nicole Biello as Stan #3
Evan Guerrera as Water Boy
Soundtrack
[
]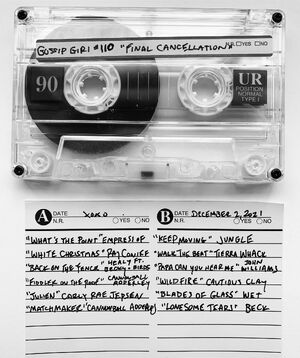 "What's the Point" by Empress of
"White Christmas" by Ray Coniff
"Back on the Fence" by Healy ft. Becky + Birds
"Fiddler on the Roof" by Cannoball Adderley
"Julien" by Carly Rae Jepsen
"Matchmaker" by Cannonball Adderley
"Keep Moving" by Jungle
"Walk the Beat" by Tierra Whack
"Papa Can You Hear Me" by John Williams
"Wildfire" by Cautious Clay
"Blades of Glass" by Wet
"Lonesome Tears" by Beck
Memorable Quotes
[
]
Gossip Girl: Sooner or later, we all go to war. And when that begins, it's only natural for our defenses to go up. Especially when we find ourselves under fire. Dunno 'bout you, but I love the smell of facepalm in the morning. And what can you do when the enemy has you backed into a corner? Call in support? Rally the troops? But remember, there's nothing quite like a sneak attack. Whatever your defensive strategy might be, know that I'll be here to give the blow-by-blow. Because at the end of the day, it's kill or be canceled.
Gossip Girl: Uh-oh, JC. Your friends at JulienCallowayUpdates discovered some tracks you tried to cover up. Not a good look. As the saying goes, those who forget the past are doomed to have it retweeted.
Gossip Girl: Rise and shine. The day might just be getting started for yesterday's victors, but losers never sleep. And it seems a certain rival team's mate dug under the cover of darkness to unearth a precious piece of the past. Shall we put a clock on your next move, Menzies? Tick-tock. Or should we say, Tik-Taki?
Gossip Girl: Spotted. Little Z planning something big for her big sis.
Gossip Girl: This just in. Little Z and sis JC caught in a big lie. But only 'cause of a bigger faux pas on the part of moi. Even I have bad days. And bad intel. Consider the tip that J was ever on Daddy DJ's side officially cancelled. I know you'll forgive me. But give us both a second chance, won't you? What's better than a takedown? A comeback.
Gossip Girl: So, how'd those defensive strategies go? Did you win the war? Or maybe you realized it wasn't a war worth winning in the first place. Because sometimes, the greatest enemy is yourself. And that's one battle we all must fight alone. Very alone. And in this battle, there will be some who feel they've already lost. And those who are inspired to not give up without a fight. And, of course, those who just give up. But rest assured. You're never really alone. Not while I'm around. XOXO, Gossip Girl.
Trivia
[
]
Cultural References
[
]
This episode's title is a reference to the popular 2000s film saga, Final Destination.
Locations
[
]
Food and Drink
[
]
Gallery
[
]
Photos
[
]
Videos
[
]
References
[
]