'Gossip Girl' Profile: Dan Humphrey
Play Sound
This article is about the tv character. You may be looking for the novel character.

Daniel Randolph "Dan" Humphrey is a main character in the Gossip Girl novels and it's television adaptation. He is portrayed by Penn Badgley.
Dan has an on-again-off-again relationship with Serena van der Woodsen and the two have the longest running relationship on the show. Dan and Serena finally get married in the finale. Dan is good friends with Nate Archibald, Blair Waldorf, and Chuck Bass. In the sixth season, Dan reveals himself to be the anonymous blogger known as Gossip Girl.
Summary
Dan Humphrey is the son of rock musician Rufus Humphrey and artist Alison Humphrey, and is the older brother of Jenny Humphrey. Dan is a writer/poet and used to attend the St. Jude's with eventual friends Chuck Bass and Nate Archibald. Although accepted to Yale, he ends up attending NYU. He had a crush on Serena van der Woodsen that eventually evolved into a relationship that became the longest on the show. He used to despise Serena's best friend, Blair Waldorf; but became friends with her and has since dated.
Dan is clever, as he was basically the smartest in his class, and also witty and patient; he works hard for what he wants and normally achieves his goals. Although inexperienced with plotting and manipulation, he demonstrates promise when scheming with Blair. Dan reveals at the end of the series that he was Gossip Girl from the beginning for a way for him to win Serena by writing himself into the Upper East Side, a task he succeeded in by the end of the series. In the finale, Dan and Serena get married, surrounded by friends and family.
Novel Series
Dan Humphrey is the son of Rufus Humphrey and has a younger sister, Jenny Humphrey. His absent mother Jeanette ran off with a European aristocrat, but returns to support Dan when she hears of his sexual confusion. Dan and his family live on the liberal-cultured and artistic Upper West Side, the alternative of the old moneyed and conservative Upper East Side. He attends the Riverside Preparatory School for Boys, where wealthy playboy Chuck Bass attends, as a scholarship student. At the end of the series, he matriculates to Evergreen State College in Washington. He is described as being attractive and sensitive, loves to write poetry, and one of his poems, Sluts, was featured in The New Yorker. He revealed his favorite word is "death" and drinks copious amounts of dark coffee and chain smokes cigarettes. He over analyzes and is easily frustrated. Dan is very close and protective of little sister Jenny who attends an exclusive private school, called the Constance Billard School for Girls, a small, elite, all-girls school.
Dan originally harbors a crush on Serena and the two briefly date, but break up after finding they have nothing in common. He realizes he has feelings for Vanessa Abrams and they enter a relationship, despite breaking up and getting back together several times.
Differences on Television Adaptation
Dan is one of the characters who stayed pretty true to his portrayal in the books. His infatuation with Serena remains one of the biggest differences, as in the books, their relationship is fleeting; as opposed to the series, where they are on and off through the duration. Also in the books, Dan is addicted to coffee and cigarettes but neither is shown to be of extreme interest in the show.
Television Series
Dan makes his first appearance in Pilot, where he plans to help Rufus spread the word about a concert featuring himself and his old band Lincoln Hawk. When he hears Serena van der Woodsen has returned to the city and is living at the Palace Hotel, he goes to try and talk to her. While there, he accidentally runs right into her and ends up with her cell phone. He tries to return it, and ends up scoring a date with her as she attempt to avoid going to Blair Waldorf's Kiss on The Lips Party. While on their date, he gets a text from Jenny Humphrey, who needs saving from Chuck Bass at the party. He and Serena head over and save her, but he awkwardly waves to her at the end of the night. In The Wild Brunch, he convinces Serena to give him a chance to make up for the wave and the two end up at Bart Bass's Annual Brunch for his foundation. Blair, who is still angry at Serena for sleeping with her boyfriend Nate Archibald, informs Dan of what she did. After the two briefly argue, they agree not to see each other again because their worlds are too different.
After seeing Blair out Serena for a nonexistent drug problem, then seeing Serena take the fall to protect her brother Eric van der Woodsen, Dan tells her that if she ever wants to get together and not talk, they can (Poison Ivy). In an attempt to fix things, Dan invites Serena out for a movie but is let down when she cancels at the last minute to support Blair. To make up, she invites him to Eleanor Waldorf's fashion photoshoot featuring Blair so she can both support her and hang with Dan. He agrees, but gets there in time to see her fight with Blair over Eleanor choosing to feature her instead. He sits down with Blair, and gives her some advice; citing an example of wanting to tell his mother Alison Humphrey to either come home or stay away, but not being able to. They agree to act somewhat civil to each other and he and Serena make plans for another date (Bad News Blair). In Dare Devil, Dan and Serena go on their first real date. He plans for the date he thinks she wants: a fancy dinner complete with a car service. He tries to act cool, but soon figures out that she wanted a real Humphrey date. They leave the restaurant, and end up at a bar where they play pool. While there, Rufus calls him to pass along the message from Lily van der Woodsen that Eric is missing from his room at The Ostroff Center. After awhile, they track down Eric, who is at a bar with Blair and Jenny. They return him to the center and share their first kiss at the end of the night.
In The Handmaiden's Tale, Dan's childhood best friend Vanessa Abrams returns from New York from Vermont. They hang out, but he neglects to tell her about his relationship with Serena, who becomes jealous of Vanessa. Wanting to surprise her, he makes plans to show up at the Masked Ball where she'll be. At the same time, Jenny wants in to the ball and Vanessa helps her sneak in. Where there, she sees Dan and Serena together and she confronts him about their unresolved feelings. He admits that while he had feelings for her in the past, he now like Serena. At the end of the episode, they make up. Dan and Serena finally consummate their relationship in Victor Victrola, and realize they're falling in love. Alison returns in Seventeen Candles, much to Dan's dismay. He tells her that he isn't mad that she cheated, so much as he's mad that she pretty much abandoned them. Wanting to ease the tension between Serena and Vanessa, Dan brings Vanessa to Blair's birthday party. Serena and Vanessa act awkwardly around each other at first, but eventually warm up over playing Guitar Hero. Vanessa accidentally makes a comment about how bad Dan's day was and Serena becomes hurt that she isn't the first to know about serious things in Dan's life. He admits to her that relationships are all new to him, but that he really does want her to be the one person he can tell anything to. On Thanksgiving, Dan invites Serena, Eric, and Lily to the Humphrey dinner, not aware of Rufus, Lily, and Alison's history. A flashback to the prior Thanksgiving shows that Dan saved a drunken Serena from being hit by a cab. At dinner, things become quickly out of hand when the adult's history is revealed and they begin to fight. Dan, Serena, Eric, Jenny, and Blair, who left her own family's dinner, go out to a diner together. After they eat and hang out, Dan and Jenny return to Brooklyn where they play touch football with Rufus and Alison (Blair Waldorf Must Pie).
Serena's grandmother CeCe Rhodes comes to New York to attend Cotillion and makes it clear that Dan is not an acceptable date for her. She informs Dan that he will never be good enough for Serena, and he retaliates by becoming her date to the ball. However after Dan discovers CeCe offered to pay off Rufus to keep him away, he tells Serena; who becomes upset and they decide not to go together. At the ball, Serena realizes Dan was right and they make up ((Hi, Society). On Christmas, Dan gives Serena a copy of his first story about the day they met at a party he was accidentally invited to. She, along with Vanessa's help, creates a room with virtual snow where they spend the night together. On Christmas morning, Rufus and Alison reveal they're splitting up and that she plans to return to Hudson (Roman Holiday). After Serena throws a pool part that gets out of hand, Dan and everyone else is threatened with expulsion. Dan doesn't want to ruin his future, and and tries his hardest to find out who started the party. Serena, realizing he is very important to her, decides to save his future by turning herself in (School Lies). In A Thin Line Between Chuck and Nate, a Gossip Girl blast shows Serena purchasing pregnancy tests. She later admits that she bought the tests for Blair, and unbeknownst to them, Jenny overhears. Angry at Blair, she confirms a rumor about her to Nate, who ends his friendship with Chuck and break up with Blair. Serena originally thinks Dan told Jenny and accuses him of doing so, but later figures out he didn't. He ells her he loves her, and she doesn't say anything. That evening, she goes to the loft and he explains exactly why he loves her.
Georgina Sparks returns to New York in Desperately Seeking Serena. She encourages Serena to go out, and drugs her the night before the SATs. Dan becomes worried about her, and assumes it has to do with the recent meshing of the VDW-Bass families. Georgina, who becomes angry after Serena tells her never to contact her again, "accidentally" runs into Dan in the park and introduces herself as Sarah. Meanwhile in All About My Brother, Jenny has begun dating Asher Hornsby. Dan is suspicious of him and his suspicions are confirmed after he sees Asher kissing a boy. He confronts him about it, but Asher replies by promising to take Jenny's virginity. Dan tries to get Serena and Sarah to meet, but becomes annoyed when Serena tells him not to trust her. At a dinner, Georgina lets it slip to Serena and Lily that Eric is gay. At Asher and Jenny's party, he, along with Blair, reveal Asher is gay too. In Woman on the Verge, Dan goes looking for Serena and all clues lead him to Blair's penthouse. When he arrives, Blair, Chuck, and Nate try to prevent him from seeing a hungover and unstable Serena. However, she emerges and lies that she cheated on him the night before to keep him from finding out her real secret. After he's gone, she reveals to Blair, Chuck, and Nate that she and Georgina were present for a friend's overdose and she feels as if she killed him. In order to help her find closure, Blair, Chuck, and Nate team up to find Georgina and end the blackmail. Meanwhile, Georgina as Sarah concocts a lie to Dan that she changed her name to hide from an abusive and obsessive ex. She also admits that she has feelings for him and the two kiss. In the finale Much 'I Do' About Nothing, Serena confesses the whole truth to Dan, To get back at Georgina, he works with Blair to send her away from the city by sending her to boot camp. At Lily and Bart's wedding, he breaks up with Serena, not wanting to be around the drama and problems that come with the differences in their worlds.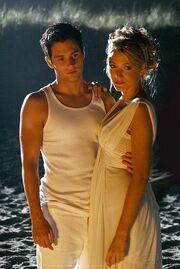 In the premiere Summer Kind of Wonderful, it's revealed Dan spent the summer interning with Jeremiah Harris and dating multiple women to get over his break up with Serena. However, he realizes he misses her and goes off to find her in the Hamptons. When he arrives, he's greeted by CeCe who gives her approval and lends Dan a white suit to wear to The Vitamin Water White Party. At the party, he makes up with Serena and they spend the night on the beach together. Soon after, Dan returns to the city but keeps hooking up with Serena, eventually deciding to get back together (Never Been Marcused). After a little while, they realize once again that they come from very different worlds and that it just isn't going to work between them. They talk after being trapped in a elevator during a black out, and break up again (The Dark Night). On the first day of school, Dan and Serena act awkwardly to each other but agree to try and be friends. He meets a new girl, Amanda Lasher, and they go out together. Blair, not wanting Serena to get hurt, plots to split Dan and Amanda up. It works, but Dan believes Serena did it intentionally and they stop talking (The Ex-Files).
Dan, wanting to go to Yale, tries to get Noah Shapiro to write him a recommendation. He encourages Dan to get out of his comfort zone, so Dan begins hanging out with Chuck. He learns all sorts of personal things, such as that Chuck believes he killed his mother because she died during childbirth. On one of their outings, Chuck mistakenly assumes a woman is an escort and is threatened by her boyfriend. To stop the escalating fight, Dan punches the guy but gets both of them arrested for brawling in public. Chuck thanks him for having his back but takes it back after learning Dan was writing about him. Noah Shapiro bails Dan out of jail, but becomes angry after Dan refuses to reveal Chuck's secrets for exposure (The Serena Also Rises). During a visit to Yale, Nate, knowing everyone there hates his father for his crimes, pretends to be Dan. Meanwhile, Dan finds out he needs another recommendation and runs around campus trying to get it. He's directed to a girl named Jordan, who Nate is hooking up with for the weekend. Dan reveals that Nate is lying about who he is, but gets his work submitted. Meanwhile, Chuck is kidnapped by a secret society who promise to let him in if he brings Nate to them. Not wanting to hurt his best friend, Chuck tells them Dan is Nate. When Nate finds out what Chuck did, he puts a pause on their friendship and begins to befriend Dan (New Haven Can Wait).
After returning to New York, Nate invites Dan to play soccer in the park. Dan mistakingly assumes they're meeting at Nate's townhouse and goes over. He finds that Nate is living with the bare minimum after his family lost all their money. He tells Jenny, who suggests he invite Nate over for dinner to convince him to stay. While at dinner, he reveals to Nate that he knows how bad he's living, but Nate orders him to stay out of it. After running into Serena on the street, they begin to rebuild their friendship and she tells him that he's a good friend for Nate. After trying again, Nate moves in with the Humphrey's (Chuck In Real Life). In Pret-a-Poor-J, Serena brings Blair to Dan to help her get advice on finally telling Chuck she loves him. Dan encourages her to, and gives her enough confidence to do it. However, he learns that recently Chuck and Blair used Vanessa in one of their games and decides to instill doubt in Blair over what Chuck will say. As a result, Chuck and Blair are more at odds than ever. Serena admits to Dan that she genuinely thought he could help Blair be brave. Dan realizes he messed up and tells Chuck that Blair was going to reveal how she felt until he stopped her. After seeing Nate kiss Jenny on Gossip Girl, Dan kicks Nate out of the loft (There Might be Blood). In Bonfire of the Vanity, Dan is hired to find inside information on Chuck's dad, Bart, to use in a magazine. He starts hanging out with Bart, pretending to be interested in his business, but Chuck is suspicious. After meeting with a source, Dan discovers that Bart burnt down a building years ago to collect insurance money. Chuck tells Bart that Dan is planning to expose him, then asks Dan to not to. Dan decides to send Bart the story he wrote about Chuck, where he felt responsible for his mother's death, and it results in the Bass men becoming closer. Meanwhile, Serena has begun dating Aaron Rose, an artist whose work is displayed at Rufus' gallery, but isn't revealing her party girl past. On Thanksgiving, Dan mentions the Georgina thing to Aaron, and Serena becomes mad that he revealed some of her secrets to him. In It's a Wonderful Lie, Aaron's ex Lexi comes to down and becomes interested in Dan. He agrees to take her to the Snowflake Ball as his date, and Serena discovers that Lexi sleeps with guys on the first date. She debates whether to warn him, and does so at the dance. After a brief argument, they tell the other that the first time they had sex was the greatest night either has ever had. After Bart's funeral, Dan realizes he still has feelings for Serena and attempts to tell her at Eleanor and Cyrus Rose's wedding. However, Serena rejects him to go to Buenos Aires with Aaron, knowing Rufus and Lily are in love (O Brother, Where Bart Thou?).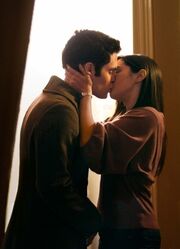 When school resumes, Serena reveals to Dan that she broke up with Aaron and that she still loves him. They agree to get back together, but their happiness is short lived when Rufus is not supportive. They hunt for clues as to why, but find none. However, Dan finds out from Chuck that years ago, Lily had Rufus' baby that she put up for adoption (In the Realm of the Basses). He tries to keep it hidden from Serena, but tells Vanessa. Meanwhile, Nelly Yuki steals his phone and along with Penelope Shafai, Hazel Williams, and Isabel Coates, they tip off Gossip Girl; who releases the info in a blast. After the dust settles, Dan admits to Serena that he really did want to tell her but Rufus made him not. They decide to make it work despite the revelation (Gone with the Will). Dan gets accepted into Yale in You've Got Yale!, but is disappointed when Serena admits she wants to go to Brown and not Yale. He also meets her new Shakespeare teacher Rachel Carr, who he begins to hang out with. The two grow close, bonding over their mutual interest in literature and writing. Blair, who is given detention after hazing Rachel, exacts revenge by spreading a rumor that Dan and Rachel are having an affair. While at dinner, Rachel is extremely upset with the news and Dan hugs her to comfort her. Outside, Serena witnesses the event and tells Blair, who informs the Parent Committee. While Blair is meeting with them, Dan and Serena break up. The committee votes to fire Rachel, and after it's done, she and Dan sleep together (Carrnal Knowledge). Rachel shows up at rehearsal for the senior play The Age of Innocence, and she and Dan correspond in notes. They make plans to meet up at her apartment, but Rufus intercepts the note and goes in Dan's place. Right before opening night, Dan and Rachel have sex in the costume closet. After the performance, he discovers Rachel told Yale that she was hazed by Blair, costing her her acceptance. He ends things with her, and she returns to Iowa (The Age of Dissonance).
Soon after, Rufus discovers that Dan won't receive financial aid from Yale. He confesses to Vanessa, who tells Dan (Remains of the J). Wanting to help out, Dan gets a job as a cater waiter but ends up serving the Waldorf Seder. While working, Serena, having just returned from Spain with Poppy Lifton, is worried she accidentally married Poppy's boyfriend Gabriel Edwards. She confides in Dan after he overhears her talking with Cyrus, and when Gabriel shows up to the dinner, they pretend they're back together (Seder Anything). After Gabriel and Poppy's con scheme is revealed, Serena decides to fix the problem herself. She tells Dan, who knows that Rufus invested his college money with Gabriel. He decides to tell Lily, who orders Serena to back off. When she doesn't, Lily has her arrested (The Wrath of Con). On prom night, Serena is still in jail but Dan bails her out to escort her (Valley Girls). In the finale The Goodbye Gossip Girl, Dan graduates from St. Jude's. However, a Gossip Girl blast with labels, naming Dan "The Ultimate Insider", comes out. Serena vows to find her identity to stop her, but fails. When she sends the text asking Gossip Girl to meet her, Dan is the first to show up. Once summer begins, he hears from Georgina, who has gotten Rufus' money back and who will also be attending NYU in the fall. He also meets Scott Rosson, although he introduces himself as Scott Adler.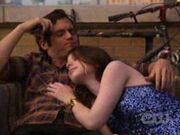 In the premiere Reversals of Fortune, Dan, Rufus, Eric, and Jenny return from their summer in the Hamptons. Dan meets up with Vanessa, who feels he's becoming another shallow Upper East Sider. Her new friend Scott encourages her to tell Dan what she thinks at the van der Bilt polo match, and she agrees. However, Dan is helping Blair banish Serena's stalker Carter Baizen, and brushes her off. On the first day of NYU, Dan instantly fits in and makes new friends. Blair, who is determined to rule the school, asks him to take her to Georgina's rooftop party. He does, but quickly learns it was a mistake when Blair humiliates Georgina in front of everyone. Dan sticks up for Georgina, and gains more popularity. At the end of the night, he ends up sleeping with her (The Freshmen). However soon after, he tells her that he isn't interested in her. After being rejected, she discovers that Scott is Rufus and Lily's son; and leaves to follow him to Boston (The Lost Boy). In Dan de Fleurette, Dan meets Olivia Burke, a famous actress whom he doesn't recognize. At her movie premiere, he realizes who she is but decides he likes her too much to end things with her.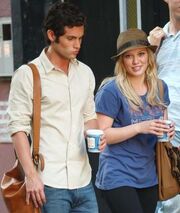 Upon learning Dan is dating Olivia, Georgina blackmails Vanessa into trying to break them up. When Dan catches her, she admits that she knows that Scott is her brother. Meanwhile, Rufus and Lily are planning their wedding for the next day and Vanessa tells Dan to hold Georgina off for as long as possible. He pretends to want another chance with her, but she figures out he's lying. On wedding day, she brings Scott to town and reveals his identity to Rufus and Lily. Despite her scheming, Rufus and Lily meet Scott, and marry at the loft (Rufus Getting Married). During Parents Weekend, Vanessa wants to give the Freshman Toast but learns she is a second choice behind Olivia. To get her out of the picture, she tells Olivia that Dan is embarrassed to introduce her to his parents, and she tells Dan that Olivia is anxious about meeting his parents. They believe her, until the dinner when they figure out Vanessa played them (Enough About Eve). Meanwhile, Serena has taken a job with Olivia's publicist KC, and wanting to help make Chuck's party a success, she asks Olivia to walk the red carpet with her ex Patrick Roberts. Olivia agrees, but Dan is uneasy as he's seen their sex scenes and knows about their past relationship. When the party is broken up due to a fake liquor license, they reveal their relationship to the press (How to Succeed in Bassness). After a Jimmy Fallon appearance, Olivia tells a story about her first date with Dan, and how he came back from the restroom at one point with his shirt on backwards, claiming a spider climbed inside. Jimmy dubs Dan "Bathroom Boy", and Olivia tries her hardest to prevent Dan from seeing the interview. However, he ends up seeing it and while watching the segment, remembers it's their one month anniversary. He heads home to plan a special night for them (The Grandfather: Part II). In They Shoot Humphreys, Don't They?, Olivia is offered a movie project she can't refuse, so she must leave school. In an attempt to get her to stay, Dan and Vanessa take her to complete a bucket list of things all college students need to do. The list ends with having a threesome, which the three engage in. Soon after, the awkward results begin to show; causing Vanessa and Olivia to fight over who Dan "belongs" to. Olivia confesses to Dan that during the act, he was looking at and kissing Vanessa with passion he never had with her. She breaks up with him and leaves, promising to come back the next fall (The Last Days of Disco Stick).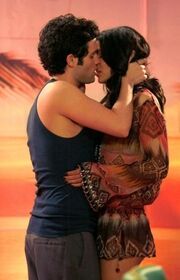 On Thanksgiving, Vanessa's mother Gabriela Abrams comes to town. After observing Dan and Vanessa, it becomes clear to her that Dan has feelings for Vanessa. She warns him to only tell her his feelings if he's serious about her, because their friendship won't survive another heartbreak (The Treasure of Serena Madre). After Serena's car accident, Dan and Vanessa go to the hospital together and he reveals that he loves her, but she rejects him (The Debarted). Soon after, the two end up at a party thrown by Vanessa's dorm with dates to make the other jealous. After awhile at the party, they kiss and decide to try and make a relationship work (The Lady Vanished). Not wanting to jeopardize things, they agree to hide from everyone else at first. After that prove too difficult, they decide to tell everyone (The Sixteen Year Old Virgin). At a brunch, Serena and Nate congratulate them, but warn them not to fall into a rut. Vanessa takes the advice seriously and plans a homemade dinner based off of one of Dan's favorite movies. The dinner is awkward, and is eventually crashed by Rufus at accident. After the debacle, Dan goes to see Vanessa at her dorm and tells her that just being with her is special and not boring (The Empire Strikes Jack). Dan applies to Tisch for their screenwriting program, and he and Vanessa agree to read each other's screenplays. However, this process proves more difficult than anticipated when they're not sure how honest they can be with each other. It's later revealed that Vanessa also applied to Tisch without telling Dan (Inglourious Bassterds).
In Dr. Estrangeloved, Dan is rejected from Tisch and finds out Vanessa took the one transfer spot. She offers to drop out, but Dan tells her not to. He admits to Willa Weinstein that Vanessa's submission was a piece based on one of his stories, and Willa decides to use this information to get Dan in and Vanessa out. Dan eventually finds out that Vanessa applied with an original piece, so he tells Willa to undo what she did. She refuses, but Dan holds his ground. Not too much later, Dan finds out Vanessa was offered an internship in Haiti. He encourages her to take it, promising that they will be fine (It's a Dad, Dad, Dad, Dad World). After William van der Woodsen shows back up causing problems with Rufus and Lily, Dan works with Blair, Chuck, Nate, and Jenny to expose him. Their plan works, but Serena becomes angry that none of her friends will accept her father. After she realizes they were right, she follows him to the airport and lets him go. It's revealed that Dan went with her for support (Ex-Husbands and Wives). In the finale Last Tango, Then Paris, Jenny sees Dan and Serena sleeping in his bed together and sends a tip to Gossip Girl. When they wake up, it's revealed that they stayed up all night talking but did share one kiss. When Dorota Kishlovsky has her baby, Dan goes to the hospital, where he learns Chuck and Jenny slept together. While Chuck is trying to propose to Blair, Dan punches him in the face. Angry that Dan and Serena kissed, Nate sends Vanessa a copy of the blast; causing her and Dan to break up. Soon after, summer begins and Dan learns Serena and Nate broke up. He calls her, but she's headed to Paris for the summer with Blair. Dan, wanting to finally confess his love and win her back, is in the middle of buying a ticket to Paris when Georgina shows up: very pregnant with his baby.
In the premiere Belles de Jour, it's revealed Dan has been hiding out at the loft with Georgina and their newborn baby, Milo Humphrey. Rufus, who hasn't heard from Dan all summer, sends Vanessa to investigate. When she arrives, she discovers the baby but agrees not to tell Rufus until Dan has a chance to. Meanwhile, Georgina takes matters into her own hands and tells Rufus and Lily. Rufus is in denial and asks for a paternity test, knowing Dan hasn't had one done. Georgina explains that she had it done, and even lets Dan call the doctor to confirm the results. After he does, Dan signs the birth certificate. All the while, Nate has met and begun hanging out with Juliet Sharp, who wants to help him figure out his feelings for Serena by eliminating Dan from the picture. They lie to Vanessa that Dan still has feelings for her, and the two end up sleeping together. After they do, Dan realizes he really does have feelings for her and they get back together (Double Identity). In The Undergraduates, Georgina returns from her vacation and admits to Dan that Milo isn't really his son, and that his real father is a Russian man name Serge with a crazy wife who wanted Georgina killed for sleeping with her husband. She explains that her parents are letting her move back in, and she leaves with Milo, devastating Dan. Once Serena has returned from Paris, Dan goes to hang out with her to avoid talking about his feelings with Vanessa. They work together to help Blair expose Chuck's new girlfriend Eva Coupeau, and Dan is the one who figures out she is a prostitute. He realizes he misses Serena, but after discovering that she is torn between him and Nate still, he goes back to Vanessa (Touch of Eva).
In Goodbye, Columbia, Vanessa works with Juliet to help her uncover whether Dan and Serena slept together recently. She discovers that they haven't, but Juliet frames her for sending a fake email from Serena's account offering sex for grades. Dan is upset at what she did, and they break up. Soon after, Dan is angry that Jenny is still banned from Manhattan, Dan schemes with Eric to sabotage Blair's birthday party. Knowing they aren't a match for her and Chuck, Eric drops out of the plan but Dan goes on with it. The plan is a success, but he loses Rufus' respect when he finds out what Dan did. However, Dan makes it up to him by decorating the VDW apartment with paper flowers for his and Lily's anniversary (War at the Roses). Meanwhile, Serena has begun having an affair with her billionaire professor Colin Forrester. Dan tells her that if Colin really cares for her, he can quit his job to be with her. Serena comes to the decision that he is right and breaks up with Colin, then invites Dan to accompany her to the ballet later that night. But by the time he gets there, Serena and Colin have made up and are back together. However at the end of the night, she and Colin have broken up again and she leaves him a message asking him to come over, and she'll wait as long as it takes. When he gets there, he sees her outside with Nate, and realizes she still has a choice to make (Juliet Doesn't Live Here Anymore). In The Witches of Bushwick, Dan and Nate agree to each ask Serena on a date and whoever she says yes to is the one who can have her. Unbeknownst to them, Jenny, Vanessa, and Juliet are working to destroy Serena. They steal her phone, and play with both Dan and Nate's heads and feelings. At Chuck's masquerade ball, Jenny and Juliet dress as Serena and kiss them both. Upset that she's playing games, Dan and Nate tell the real Serena that they chose for her: she gets neither of them. At the end of the night, Juliet drugs Serena and leaves her in a hotel.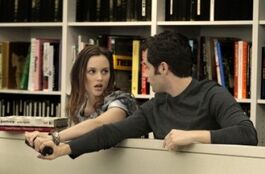 In Gaslit, Serena lands in the hospital after her overdose. Dan doesn't actually believe Serena overdosed herself, and helps spring her from an involuntary commitment to The Ostroff Center after she admits that he was the one she wanted to be with at the ball. They're about to leave town before they're stopped by Blair and Lily. Dan tells Lily that unlike her, he's think about what's best for Serena and that maybe she should listen to what she's trying to say. Meanwhile, Jenny feels guilty about what happened and tells Blair about what she, Juliet, and Vanessa did. Blair goes to Dan, and asks for his help in getting justice. In The Townie, Dan and Blair email Gossip Girl to find any information on Juliet. They end up in Cornwall, Connecticut, where Serena ran away to boarding school, and find Damien Dalgaard who fills them in on Serena's time at school. After finding Juliet's home address and speaking to her mother, they figure out what Juliet's true motive was. They return to New York to tell Serena, only to find her armed with Juliet and the real truth. After winter break, Dan begins his internship at W Magazine, but is surprised to learn Blair is also interning there. After competing much of the first day, they make a deal to each bring an author to the W Party and whichever one their supervisor Epperly likes more, gets to keep their job. When given the opportunity, Blair chooses not to sabotage Dan, but finds out she made the wrong choice when Dan ends up sabotaging her. They engage in a brawl, and Epperly fires them both. After talking with Blair, he finds out that she worked hard to get the position and gets her her job back when he tells Epperly everything was his fault (Damien Darko).
Meanwhile, Juliet's brother and ex Serena hater Ben Donovan has moved into the loft, much to Dan's dismay. Eric, who has begun dating Damien, doesn't like Ben either so the three work together to get rid of him. At a party, Eric punches Damien, who tells that Ben did it. Dan calls Ben's parole officer, who arrests him. After finding out Damien was using him, Eric tells Rufus the truth. The next day, Dan welcomes Ben to the loft and apologizes for not trusting him (Panic Roommate). In It-Girl Happened One Night, Dan helps Ben find a job as a cater waiter. He pitches an article idea to Blair, who has taken Epperly's job over after she quit. At Chuck's party that night, he confronts Blair over not even giving his article a chance but they're forced to hide when Chuck comes in with his new girlfriend, Raina Thorpe. Blair becomes devastated when she discovers that Chuck has real feelings for her, and Dan tries to comfort her. Later, she calls him and says that she gave the article to Vanity Fair and enjoyed it. They spend the rest of Valentine's Day on the phone, while watching Rosemary's Baby at the same time.
On Eric's 18th birthday, he agrees to help Blair, who is overwhelmed with work; but only if she admits that she needs him. She initially refuses, but eventually gives in. She directs him to a sticky note, but she has accidentally written down the wrong information and Dan ends up ruining a plan. After Eric's party, she goes to see Dan and admits she was fired from the magazine after messing up one too many times. They order pizza and fall asleep on the couch together (While You Weren't Sleeping). Afterwards, they begin hanging out more and more but keep it a secret from everyone. Wondering what to do, Blair goes to Dorota and Dan goes to Rufus for advice. Both suggest that maybe something more is going on, although both Dan and Blair deny the possibility. They tip off Gossip Girl that a big secret will come out that night, and they'll then admit they're friends. However, their news gets upstaged by Lily's arrest for purgery. At the end of the night, Dan goes to the Waldorf's and proposes they make sure once and for all that they are just friends. They end up kissing.
After the kiss, Dan realizes he does have feelings for Blair and is disappointed when he doesn't hear from her. He admits what happened to Eric, who confirms that Dan does have a crush on her. Meanwhile, Chuck is being shot in a Modern Royalty photoshoot and uses Epperly to find out why Blair hasn't been talking to him. Epperly is able to get Blair to spill that she had a life changing kiss. Chuck heads over to the loft to see Dan, and he quickly deducts that she kissed Dan. He gets Dan invited to the photoshoot to show Blair he isn't a part of their world, but Blair becomes upset at his immaturity and reveals it was life changing because it helped her see she wanted to be with him. Dan is forced to pretend the kiss meant nothing to him (The Kids Stay in the Picture). Soon after, Blair's date from Paris, Prince Louis Grimaldi arrives in New York to secretly see her. Dan is hired to cover his visit to Manhattan, but quits when he discovers he's with Blair. Meanwhile, Serena has found out about Dan and Blair's maybe kiss and enlists her newly arrived cousin Charlie Rhodes to help find the truth. Charlie follows Dan and Blair, and sees Dan exit the cafe they were both in and tells Serena. After Louis' family finds out he's in New York, Blair plots to get him to stay by pretending to be dating Dan. They plan to stage a kiss at the Pink Party, which Charlie films and sends to Gossip Girl. Serena demands to know what's going on, and they explain that they're friends but embarrassed to admit it. Blair tells Serena that she and Dan have a genuine connection that makes them friends on a different level than her and Serena, or even Serena and Dan. Later, Charlie goes to see Dan and apologizes for filming him; and that she can tell he really likes Blair. Dan admits it's true, and that he never expected to fall for her. Also, he tells Vanessa that they are no longer friends and never will be again (Petty in Pink).
Soon after, Dan and Charlie grow closer and start hanging out often. Rufus suspects Charlie has a crush on Dan, which he doesn't believe, until he starts to see that maybe she does. He tells her that he isn't looking for a relationship, and she promises she only wants to be friends. To prove it, she offers to cook dinner for Rufus and guests he's planning on having dinner with. Dan agrees to let her, but is shocked when she plans a fancy, catered dinner for Rufus' band he produces for. She admits that Vanessa told her what to do, and Dan realizes Vanessa must have set her up. Charlie wants to see Vanessa herself to confront her, and reveals she is the one who set her up to get her out of Dan's life (The Princesses and the Frog). In Shattered Bass, Dan invites Charlie to go with him to the Constance/St. Jude's fundraiser alumni gala. She instantly agrees to go, and uses Serena's Cotillion look for inspiration. She steals her dress, wears her hair the same way, and announces to Serena that she knows she's jealous she's going with Dan. Serena is shocked at her, but Dan takes her side and they go to the gala. In the finale The Wrong Goodbye, Dan and Charlie attempt to hookup in Headmistress Queller's office, but Dan is turned off when Charlie asks him call her Serena. She goes missing, and Dan heads back to the VDW apartment in case she shows up there. Vanessa goes to the loft, and finds a rough draft of his book manuscript. He tells her to put it back, but she takes it anyway. As summer begins, Charlie heads back to Florida and Dan accepts her apology for acting weird. A newly engaged Blair is heading to Monaco to spend the summer with Louis, and makes plans with Dan to share a Netflix queue. Eric notices how they're acting really close, but says nothing. Dan plans to spend the summer in the Hamptons.
The season begins in Yes, Then Zero, and Dan is still in the Hamptons. He receives Blair's wedding invitation, and is sad she's actually going to be with Louis. He runs into his old mentor, Jeremiah Harris, who mentions he read an advance copy of a new novel and he suspects Dan is the author. Upon returning home, he finds a check for ten thousand dollars, enclosed with a note from Vanessa congratulating him on his first novel. He attempts to find a way to stop the book from coming up, eventually going to Louis for help to protect Blair. Meanwhile, Blair is finding out Louis cannot stand up for her and asks Dan to go away with her to cool off after the breakup. However, she discovers that Louis is helping Dan and becomes angry that Dan would allow her to walk away from everything. Dan is determined to stop his book publication, and enlists Chuck's help in stopping it. While going to finding him, he discovers Chuck is badly hurt but unable to feel anything after Blair left him. Dan puts his book aside and helps Chuck learn to feel again, even trying to tell Blair, who is dealing with morning sickness. He catches her at a Monaco holiday feast, and tells her about Chuck. She insists Chuck isn't trying to get her attention, but has to excuse herself to throw up. Dan assumes she's bulimic again and insists she get help, but is surprised when Blair admits that she's pregnant. Later, she goes to see him and confesses she isn't sure if Chuck or Louis is the father and is scared she'll lose everything. He promises to be there for her no matter what happens (Beauty and the Feast).
For help on how to handle the book, Dan meets with another old mentor, Noah Shapiro. Noah tells him that no one will really care about the book anyway, and just let it come out. Dan agrees to do so, until he talks to Noah's agent Alessandra Steele, and learns Noah is planning to take credit. He goes to the restaurant he is at to confront him, but learns it was all an elaborate ruse to get Dan to take credit for his own work. Meanwhile, Dan has gotten Blair to take a paternity test but she refuses to look at the results. After much prodding, Dan is able to convince her to look and she discovers that Louis is the father (The Jewel of Denial). Dan's book Inside is released in Memoirs of an Invisible Dan, and everyone is happy for him until they read their character's parts. They all go to confront him at his book party, where he's left friendless after everyone abandons him. Serena has a job with Jane Bettinger, a movie producer, who orders her to get the movie rights to Inside. She pretends to forgive him for what he wrote, but then sabotages his other movie offers. However, Dan decides to give her the rights (The Fasting and the Furious). During production meetings, Dan becomes angry when he learns that Jane and her company are trying to ruin his story with a whole new meaning. Serena is given the choice to either make him cooperate or lose her job, and she chooses to help him. With the help of Diana Payne, she not only effectively kills the movie, but also loses her job to save his book (I Am Number Nine). Soon after, Dan "leaves" for his book tour, but instead stays home and lies about where he is each day. Rufus figures out where he is, and Dan admits that he went to the first few dates but no one really came. Rufus encourages him to keep trying, as it takes only one person to connect with him. Dan agrees to give it another try, but again stays home (The Big Sleep No More). In All the Pretty Sources, Dan is mad that he wasn't invited to Blair's bridal shower. He and Chuck make plans to hang out, and Chuck sets him up to sleep with some escorts to forget pondering why he wasn't invited. However, Dan gets drunk and crashes the shower anyway. Chuck goes to retrieve him and save Blair's night, but Blair thinks Chuck is trying to ruin it. However, Serena tells her the whole truth. Chuck sits down with Dan, and tells him that after having to save him, he realizes that Dan is in love with Blair, but she chose Louis. In Riding in Town Cars With Boys, Blair goes to stay with Dan to hide from the paparazzi. While there, she debates on whether to stay with Louis or be with Chuck. She asks Chuck if he could love another man's baby, but is devastated when he tells her to stay with Louis. Dan sees how depressed that made her, and plans to bring them together at Charlie's party. He successfully does so, and admits to Serena that he knows helping her and Chuck be together was the right thing to do.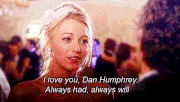 After the New Year, Chuck hires Dan to find out if Blair is having an affair. Dan does what he's asked, escorting Blair to her wedding dress fitting, but Chuck follows. He sees them go into a private residence together, and informs Louis that Blair is cheating. At Nate's party, it's revealed Dan brings Blair to a church for support and he pretend to be back with Serena to protect her secret (The End of the Affair?). In G.G., Dan is one of Louis' groomsmen and helps Blair escape her wedding after the video of her and Chuck comes out, and Louis reveals he doesn't love her anymore. Also at the wedding, Serena professes that she loves Dan and always will but he says nothing. He takes her to the airport, to help her escape to the Dominican Republic but is stopped by Serena, Chuck, and Georgina. Serena becomes mad that Dan still likes Blair and lied to her. It's also revealed that Dan sent the video in and ruined Blair's wedding (The Backup Dan).
On Valentine's Day, Dan and Blair share a kiss, which is captured by Georgina. Blair, not wanting to force her family to pay the dowry, pretends it meant nothing (Crazy Cupid Love). Dan and Blair enter into a relationship in Cross Rhodes, but Chuck tries to ruin it by outing Dan as the one who sent the video in. However, Blair doesn't care and tells Chuck he doesn't have her heart anymore (The Princess Dowry). Dan and Blair consummate their relationship, and while it isn't good at first, eventually find their groove and make it work (Con-Heir). Dan is offered a fellowship in Rome, and invites Blair to come along. After thinking about it, she agrees to go. He tries to tell her he loves her, but she pretends not to hear (Raiders of the Lost Art). After excerpts from Blair's diary are released, he tells her to either tell him how she feels or end the relationship. Before she can do anything, he is seduced by Serena, who records them having sex. Angry at finding out what she did, he tells her that he never wants to see her again, then heads to Italy with Georgina to write the sequel to Inside: an ultimate expose (The Return of the Ring).
In the premiere Gone Maybe Gone, it's revealed Dan spent the summer in Italy with Georgina writing the ultimate exposé. They return to New York when Georgina discovers Serena is missing, and figures Dan will have the best ending if they find her first. Along with Blair, Chuck, and Nate, they discover Serena is alive, calling herself Sabrina, and dating Steven Spence. Dan talks with Blair for the first time since their break up, and she tells him that she chose Chuck and made the right choice. He returns to the loft to find Rufus inside with Ivy, naked. In High Infidelity, Dan and Georgina try multiple publishers but are rejected by each one unless they omit names or compromise their integrity. Dan makes an agreement with Nate to release the first installment of his Inside Out serial on The Spectator. He releases the article on Rufus, and Ivy spreads a rumor that Rufus is planning to sue Dan. After the rumor comes out, Nate freaks out and Dan goes to see Rufus, who only wants to talk with Dan. They do, and it doesn't go well. Later, he ends his deal with Nate after being made a better offer by Vanity Fair (Dirty Rotten Scandals).
To boost clout, Georgina forces Dan to find a girl to date for publicity but he isn't interested (Portrait of a Lady Alexander). In Monstrous Ball, Dan decides to try and win Blair back so he escorts her to Cotillion. However, his dreams are dashed when Sage Spence plays his sex tape with Serena for the audience. Serena is dumped by Steven over the tape, and the two end up having burgers at a diner together to not be alone. Dan decides to find his own place, and Serena offers to help him. After being followed by paparazzi, they decide to hang out quietly at the bar where they had their first date. When they leave, he buys her chocolate covered strawberries because he knows she loves them. He gets home in time to hear Serena bashing him to Nate, and they end up fighting in the elevator similar to their argument in the second season. At the end of the night, they end up having sex and getting back together (Where the Vile Things Are). Before they come out publicly, he and Serena agree to make amends with all their friends and they succeed. In order to make amends with Chuck, Dan agrees to help him in his battle against Bart. When they're in the hotel room with Ivy angling for the microfilms, Dan tips Chuck off that Lily has them. Later he meets with Serena, he admits to her that she has always been the one, but then later tells Georgina that he is working on the Serena chapter (Save the Last Chance).
In It's Really Complicated, Dan and Serena throw their first Thanksgiving together. He's forced to choose whether to release the nice or mean chapter about Serena, and ultimately chooses to release the mean one. The release results in everyone on the UES kicking him out and alienating him. He tells both Georgina and Rufus that he has a plan and has from the beginning. In The Revengers, Dan chooses to buy an apartment in the VDW building, but learns he needs a good recommendation to get in. He makes a deal with Bart that if he writes nice things about him, he'll write a good rec for Dan. Bart finds Dan's nice chapter on Serena, and tells him that Serena respects him now and Rufus serves as a cautionary tale. At Bart's party, Dan is prompted to introduce him. However, he chooses to introduce Chuck, who is reportedly missing after Bart tried to have him killed. Blair thanks him, but takes it back after learning Serena might move to Los Angeles after Dan humiliated her. Dan goes to stop her, telling her that she is the love of his life and that he has something that will prove he never meant to hurt her. She refuses to hear him out, and leaves for the airport, but not before Dan slips an envelope in her bag.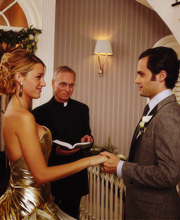 In the series finale New York, I Love You XOXO, Serena has read what was in the envelope Dan gave her. She goes to see him, and he tells the story of the day they met and how he just knew he had to find a way in. In order to save The Spectator, he gives Nate his final chapter to post. He attends Blair and Chuck's wedding and right after, the blast of Gossip Girl's identity comes out: pinning Dan as her. Serena tells everyone that what he did was a love letter and helped them all get their success. She finishes by saying Dan belongs with them, the same way she belongs in New York. In the time jump, everyone is shown at Dan and Serena's wedding.
Appearance and Style
Dan is often seen in casual clothes, and in season one, he expresses his dislike for tuxes and suits. He often wears jeans and a t-shirt, a fact that Jenny tells Serena when asked what to wear for their first date. Dan has been known to dress up when needed though, such as when he goes to parties or important social events. As the show progresses, he begins to dress better and in more expensive clothes. It's mentioned that he likes L.L. Bean pants and owns a designer wallet gifted by Lily. His hair changes from short in the beginning of the series to longer and curlier as the show goes on.
Personality
Dan is very knowledgeable and has a huge sense of justice, and is often shown to be kind and helpful. He strongly cares about the people he loves and is very protective, especially when it comes to Jenny and Serena. Dan has had a tendency to be judgmental and self-righteous in the past, a trait he claims to have inherited from Rufus. He is also a hopeless romantic. At times he also has a dry sense of humor, and likes to be well rounded.
Relationships (Novels)
Family
Romances
Relationships (TV Series)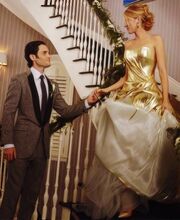 Family
Romances
Memorable Quotes
"You really wanna go out with some guy you don't know?" - Pilot (1x1) _________________________________
"Well, uh, she's best friends with this girl, Blair Waldorf, who is basically everything I hate about the Upper East Side distilled in one 95 pound, doe eyed, bon mot tossing, label whoring package of girly evil." - Bad News Blair (1x4) __________________________________
"You used to tell me that you were afraid people couldn't see the real you. Well, maybe you're the one who can't see yourself. From where I'm standing, this is who you are." - The Ex-Files (2x4) __________________________________
"Once in fourth grade, I had to miss recess because I purposely broke the rules of grammar." - How to Succeed in Bassness (2x7) __________________________________
"Not only am I manly and rugged, I also have mad browsing skills. Most people would be ripping their clothes off in the presence of this web savvy." - Touch of Eva (4x4) __________________________________
"Dylan Hunter is a judgmental dick, who can't even look himself in the mirror. My character comes off the worst of all of them. He puts off his writing, he misses job interviews, he ignores his grades, why? Because he cares more for a pretty blonde than he does his own future. And in the end, none of his friends are happy for his success, they all turn their backs on them, and he deserves it!" - Memoirs of an Invisible Dan (5x4) __________________________________
"Serena, yes I'm sure. You are the one. Whether or not I've admitted it to myself, you have always been the one." -Save the Last Chance (6x7) __________________________________
"There is no winning without Serena." - It's Really Complicated (6x8) __________________________________
"Serena, I know I've hurt you but I still love you. I've lost track of it at times, I've made mistakes, I've mad massive, heartbreaking mistakes. But I have never stopped loving you." -The Revengers (6x9) ___________________________________
"I might have been a joke, but at least people were talking about me." - New York, I Love You XOXO (6x10) ___________________________________
Hobbies/Skills
Reading - Dan loves to read, and he knows a lot about famous authors and literary works. His room in the Humphrey Loft was filled with many books.
Writing - Dan is the best writer on the whole show. He managed to write a blog for seven years, successfully tricking people that he was " Gossip Girl", a rich girl from the Upper East Side who knew everyone's secrets. He's also had his short story published in The New Yorker.
Trivia
He has a Cabbage Patch Doll named Cedric.
He has a Donatello (from Teenage Mutant Ninja Turtles) piggy bank.
When he was 5 years old he was terrified of the the Ice Capades.
He got a rotator cuff injury in 2005.
He's subscribed to The New Yorker.
He loves dogs.
He participated in T-Ball as a kid.
He used to cry if Rufus didn't walk him to school.
On holidays and his birthday, he would receive new pens and notebooks to write in.
He, unlike everyone else his age, can drive.
Published Stories
Dan's first short story published was 10-08-05. It was about Serena and the date that is the title of the book is the day he first met Serena. His story was nominated secretly by Vanessa to The New Yorker Magazine for the "20 under 20: Summer Fiction Issue" (Roman Holiday).
Dan's first book published was Inside, but Vanessa had it published anonymously with Dan taking credit later.
His second book, Monarch of Manhattan is first sabotaged by Chuck, who later fixes his wrongdoing. It is unknown whether this book is ever published.
The sequel to Inside is Inside Out and is published in chapters. The first and last chapter are published in Nate Archibald's paper, The Spectator, whereas all the others are published in Vanity Fair. Each of the chapter's are about his friends on the UES, and the final one is about him and his revelation as to who Gossip Girl is.
Photos