'Gossip Girl' Profile: Dan-Serena Relationship
Play Sound
"
I love you, Dan Humphrey. Always have, always will.
"

The relationship between Dan and Serena, also known as Derena, is the friendship and romantic relationship between Dan Humphrey and Serena van der Woodsen. Being the main couple of the series, their on-again, off-again romance is one of the biggest plot lines for all six seasons.
Overview
[
]
A year prior to the series premiere, Dan and Serena met at a party thrown by Blair Waldorf that Dan was accidentally invited to. They had a brief conversation that led to Dan having a huge crush on Serena. In the Pilot, they accidentally run into each other at the The Palace Hotel and upon returning her cell phone; Serena asks Dan on a date. They begin dating for all of the first season before breaking up in Much 'I Do' About Nothing. However, the breakup doesn't even last an episode before getting back together.
They date twice in the second season but ultimately decide to end it due to too many obstacles. Post-breakup, it is clear that they are still in love with each other.
They then remain best friends, but share many kisses and reveal their true feelings for each other, getting back together several times during the next three seasons. They begin dating again in season six, but this time stating that this is it, they're the only ones for each other, and no more breakups. In the time jump in the series finale New York, I Love You XOXO Dan and Serena marry.
Novel Series
[
]
In the Gossip Girl series of books, Dan and Serena date very briefly but break up due to having nothing in common.
Television Series
[
]
In Pilot, Serena returns to the Upper East Side after spending a year at boarding school. Dan initially sees her return and upon learning that she's living at The Palace Hotel with her mother, Lily van der Woodsen, decides to try and run into her there. While he's at the hotel, he accidentally collides with Serena; who is attempting to flee after rejecting Chuck Bass' sexual advances. After they both get up, he realizes she forgot her cell phone and attempts to return it the next day. While he's giving it back to her, Lily reminds Serena about Blair Waldorf's Kiss On The Lips party that night, but Serena lies that she has plans with Dan to get out of going. They agree to meet for a date that night, where they would attend Dan's dad Rufus Humphrey's concert. But before they can get to the show, they're called to Blair's party by Dan's sister Jenny Humphrey, who is trying to fight off Chuck from raping her.
They rescue Jenny and end the date. In The Wild Brunch, Dan and Serena attend Bart Bass' annual charity fundraiser brunch together. At the brunch, Blair informs Dan that Serena slept with her boyfriend, Nate Archibald, before she ran away to boarding school. Upset that Serena isn't as perfect as he always thought she was, Dan decides not to pursue a relationship with her anymore.
In Bad News Blair, Dan and Serena attempt to go on another date but it gets sidetracked when Blair learns her mother passed her over in favor of Serena. Dan takes the opportunity to talk to Blair and they agree to be civil to one another. Right after, Dan and Serena agree to go on another date alone. They eventually go on their date in Dare Devil and Dan plans a night with a rented driver and fancy dinner reservations wanting to impress Serena. However, Serena is not impressed and admits she wishes they had done something more low-key. They abandon their dinner in favor of going to a bar and playing pool but their date is once again interrupted when they learn Serena's brother, Eric van der Woodsen, has escaped the rehab facility he is staying at after his suicide attempt. They catch up to Eric, who is with Jenny, Blair, and Blair's friends, and escort him back to the facility. Afterward, they share their first kiss and enter into a relationship.
Dan's childhood friend Vanessa Abrams returns to town in The Handmaiden's Tale and Serena becomes jealous of their friendship, especially when she learns that they had feelings for each other at one point. However, Dan assures her that he only has feelings for her and he's still learning how to be a good boyfriend. As a result, they have sex for the first time in Victor Victrola. During Thanksgiving in Blair Waldorf Must Pie, Dan and Serena learn that their parents used to date very seriously when they were young. However, the revelation doesn't faze them and they continue their relationship. Soon after, Serena's grandmother CeCe Rhodes comes to town to attend Serena's Cotillion & Debutante Ball. But when she learns that not only is Serena dating Dan but also not attending her Cotillion, she attempt to sway her by telling off Dan; who decides to go with Serena to the ball in retaliation. After she hears this, CeCe offers to pay Rufus to make sure Dan does not go to the ball. When Dan discovers this, he tells Serena; who doesn't believe him. They decide not to go to the ball together, but Serena calls him to join her after she learns CeCe planned to set her up with Carter Baizen weeks before she even came to New York (Hi, Society). During Christmas, Serena is disheartened when she can't find the perfect gift for Dan. She later decides to work with Vanessa and Eric to set up a snow simulation in Rufus' art gallery, since she knows the only thing he really wants is a white Christmas. At the same time, Dan and Jenny sneak a Christmas tree into the VDW's hotel room (Roman Holiday). In A Thin Line Between Chuck and Nate, Dan finds out via a Gossip Girl blast that Serena thinks she's pregnant. Wanting to support her, he blurts out that he loves her, and she doesn't respond accordingly. After talking to Eric, Serena figures out that she probably has trouble hearing that Dan loves her after experiencing her mother's many husbands. She goes to see him at the loft and he tells her a whole list of reasons that he loves her.
Soon after, Serena's old friend Georgina Sparks comes back to the city to stir up trouble. After she drugs Serena and causes her to miss the SATs, Dan becomes more and more suspicious of what Serena is doing. They later resolve their issues, but Serena tells Georgina she no longer wants to be in contact with her. Angry at this, Georgina decides to befriend Dan and Vanessa under the guise of being a girl named Sarah from Portland (Desperately Seeking Serena). After Georgina blackmails Serena with a video of the night where they witnessed Pete Fairman, a late mutual friend, die, Serena goes off the deep end. She's rescued by Blair, Nate, and Chuck, who try to keep Dan away from the situation. To keep Dan from knowing what she really did, Serena lies that she cheated on him and he tells her that he is done. During Lily and Bart's rehearsal dinner, Lily goes with Serena to see the Fairman's and gain closure. Afterwards, Serena goes to find Dan but finds out that he's with Georgina; who is planning to seduce him (Woman on the Verge). In the season finale, Much 'I Do' About Nothing, Serena tells the whole truth to Dan. He then teams up with Blair to get rid of Georgina, which they successfully do. However, at Lily and Bart's wedding, he breaks up with Serena; not wanting to deal with the drama and struggles of their relationship anymore.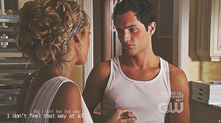 In the season premiere, Summer Kind of Wonderful, Dan realizes he misses Serena so he travels to the Hamptons to see her. While there, he gains CeCe's approval and the two reunite. However, they break up again in The Dark Night due to their worlds being too different. In The Ex-Files Dan asks a new girl, Amanda Lasher, out during the first day of school. Jealous, Serena intervenes on one of their dates and decides to ice Dan out of her life. But after awhile, they patch things up and start becoming friendly again (Chuck In Real Life).
In O Brother, Where Bart Thou?, Serena's new boyfriend, Aaron Rose, asks her to accompany him to Buenos Aires for the holidays. She is unsure at first, both about going and about whether she still has feelings for Dan. As a result, she asks Dan if he thinks she should go and he tells her she should; a decision she agrees with once she learns their parents are planning to rekindle their relationship. However, she breaks up with Aaron on the plane and when she returns, admits to Dan that she misses him and they get back together. Soon after, Dan discovers that Lily had Rufus' lovechild many years ago and that she gave the baby up for adoption. Knowing he shares a biological sibling with Serena, he begins to distance himself from her (In the Realm of the Basses). Serena, Eric, and Jenny find out in Gone with the Will, but Dan and Serena decide to stay together.
In You've Got Yale!, Serena introduces Dan to her new Shakespeare teacher, Rachel Carr. Dan is instantly attracted to her and they strike up a friendship surrounding writing and literature. Meanwhile, Blair decides to take action against Rachel for giving her her first B and ends up with detention after being caught hazing her. Wanting even more to destroy her, Blair starts a rumor that Dan and Rachel are sleeping together. After Serena spots the two having a seemingly romantic dinner, she takes a photo and gives it to Blair; who shows it to the PTA of Constance and Headmistress Queller. As a result, Rachel is fired and Dan and Serena break up (Carrnal Knowledge). Soon after, Serena begins dating Gabriel Edwards, a former boyfriend of her friend Poppy Lifton. Unbeknownst to her, Gabriel is a con artist who manages to swindle Lily, the co-op of the VDW building, and Rufus for Dan's college money (Southern Gentlemen Prefer Blondes). When Serena finds out, she plans to charm Gabriel into giving all the money back but Dan is skeptical her plan will actually work. Worried about what to do, he informs Lily of the situation and Serena's plan. Lily then orders Serena to stop and when she doesn't, has her arrested for theft (The Wrath of Con). In Valley Girls, Dan bails Serena out of jail and escorts her to prom.
In Dr. Estrangeloved, Serena reunites with her father, William van der Woodsen. After it's revealed that Lily has been being treated for cancer by him, he decides to move back to Manhattan in the same building as the VDWs. Soon after, a neighbor of the VDWs, Holland Kemble, accuses Rufus of sleeping with her (It's a Dad, Dad, Dad, Dad World). Dan, Nate, and Blair do not believe this and work with Chuck and Jenny to find the truth behind what happened. They're able to uncover William and Holland's plan to split Rufus and Lily up for selfish reasons. However, Jenny is wanting to return to her life pre-UES and informs William that everyone knows so he can leave town before getting caught. Serena is able to catch him before he leaves and leans on Dan for support when he does (Ex-Husbands and Wives).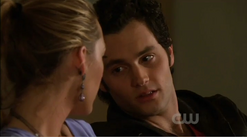 The next morning, Jenny finds Dan and Serena sleeping in his bed together and sends a photo to Gossip Girl. When Nate finds out, he sends the photo to Vanessa, who is on an internship in Haiti but still dating Dan. Right after, Serena breaks up with him. A few weeks later, Dan learns Serena is planning to spend the summer in Paris with Blair and plans to follow here there to proclaim his love for her. But before he can book a flight, Georgina shows up at the loft; very pregnant with his baby (Last Tango, Then Paris).
By the season premiere, Belles de Jour, Georgina has had her baby and Dan spends all his time at the loft with them. Soon after, he rekindles his relationship with Vanessa; leaving himself unavailable when Serena returns from Paris (Double Identity). In Touch of Eva, Dan decides to escape his feelings about everything by hanging out with Serena for the day. They do research for Blair on Chuck's new girlfriend, Eva Coupeau, and discover she used to be a prostitute back in Prague. At Chuck's party, they decide they need to talk about their feelings; much to the dismay of Vanessa. However, Dan chooses to fix his relationship with her rather than be with Serena.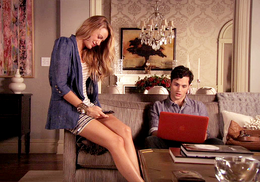 Meanwhile, Juliet Sharp is still wanting to ruin Serena's life and teams up with Vanessa and Jenny to make it happen. At Chuck's Saints & Sinners party, she and Jenny dress up exactly like Serena to ruin her relationships with Dan, Nate, and Blair. It works and afterwards Juliet drugs Serena into an overdose (The Witches of Bushwick). In Gaslit Serena is hospitalized for a drug overdose and believing it was intentional, Lily has her sent to The Ostroff Center for treatment. Adamant that she didn't overdose herself, Serena tries to convince everyone it wasn't her fault and Dan is the only one who believes her. He breaks her out of the center and attempts to leave town with her; but is caught by Blair and Lily before they can leave. Juliet then sends a photo of herself doing cocaine dressed as Serena to Gossip Girl and when Serena sees, she admits herself back into rehab. However, Jenny confesses that Juliet was behind the whole thing to Blair, who asks Dan to help her get justice for Serena. In The Townie, Dan and Blair travel to Cornwall, Connecticut, the town Serena ran away to when she attended boarding school. While there, they discover that Serena had an alleged affair with her English teacher, Ben Donovan, and Juliet is his sister. At the same time, it's also revealed that Serena harbored a huge crush on Ben but that nothing actually happened between them. But Lily, wanting to get Serena enrolled back at Constance, told the Knightly administration that Ben raped Serena. As a result, Ben was sentenced to five years in prison, which is why Juliet was wanting revenge. When Serena learns what Lily did, she asks Dan to come with her to find the judge who sentenced Ben. However, Dan chooses to stay behind and Serena goes alone. In The Kids Are Not Alright, Dan is continually let down by Serena, who is still trying to get Ben freed from prison. He eventually stops her from having Lily arrested for perjury, and they agree that the only have one more chance at a relationship before the door closes on them forever. They agree to make sure they're ready for when the time comes.
In Panic Roommate, Rufus moves Ben into the loft with Dan, at Serena's suggestion. Jealous of Serena's feelings for Ben and worried for her safety, Dan is unwelcoming to Ben at first; but eventually comes around to his staying there. In Petty in Pink, Serena learns via Vanessa that Dan and Blair kissed (Empire of the Son). She uses her newly arrived cousin, Charlie Rhodes (Ivy Dickens), to try and see what is really going on between them. At the Pink Party later that night, Serena confronts Blair about the kiss. Blair, who has recently begun dating Louis Grimaldi again, insists that the kiss meant nothing to her or Dan.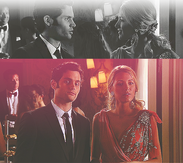 Soon after, Blair and Louis become engaged (The Princesses and the Frog) and Dan begins dating Charlie. In Shattered Bass, Dan invites Charlie to attend the Constance/St. Jude annual fundraiser with him. She excitedly agrees, and knowing about his past relationships with Serena, decides to wear her Cotillion dress and style her hair the same way. When Serena realizes what Charlie did, she orders her to take the dress off but Dan sides with Charlie. At the same time, Rufus discovers that the medication Charlie is supposed to be on has been thrown away. Serena pairs up with Vanessa to find Charlie and Dan, and they eventually find them both (The Wrong Goodbye).
Dan's book Inside is released in Memoirs of an Invisible Dan and Serena discovers that her character counterpart, Sabrina, is modeled after the old Serena. When her portrayal in the book loses her a major movie deal and threatens her job, she confronts Dan about it. He argues that the character isn't entirely based on her and that the book isn't telling about all the parts of who she is. However, she still chooses to ice him out. The next day, Jane Bettinger, Serena's boss, tells her she wants the movie right to Inside. In The Fasting and the Furious, Serena pretends to have forgiven Dan in an attempt to secure the movie rights. While he initially plans to give them to her, his agent Alessandra Steele advises him to wait and see who else wants them. When Serena finds out that he may give them to someone else, she tells all the other interested parties that Dan has already sold them. Upon finding this out, Dan confronts Serena about what she did. She admits that she's sorry and the real reason she was mad is because Blair's character, Clair, is the star and love interest of Dylan, Dan's counterpart. Finally, she confesses that she sees Dan as the love of her life and she always thought he felt the same way. After hearing this, Dan decides to give Jane the right after all. In I Am Number Nine, Dan learns that Jane is planning to change the story and the whole meaning of the book. When Serena finds out, she uses Diana Payne to help her. As a result, the movie deal is killed and Serena is fired for protecting the book.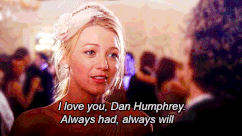 In The End of the Affair?, Louis suspects Blair of having an affair with Dan in the weeks leading up to their wedding. To save Blair's relationship, Serena lies that Blair was covering for her relationship with Dan so people wouldn't judge her. To keep Louis from becoming suspicious again, Dan and Serena enter into a fake relationship. In Father and the Bride, Blair tells Serena that she doesn't need to keep pretending to be dating Dan anymore. But having realized she still has feelings for him, Serena tells Dan that Blair wants them to stay together until the wedding. At the same time, Alessandra is advising Dan to keep his relationship with Serena on the down low to secure a book deal outside Inside, but Serena wants to use their relationship to gain traction on her new blog S by S. However, Nate kills the blog to gain information from Gossip Girl on Blair and Chuck's car accident (Riding in Town Cars With Boys). In G.G. Serena confesses her love to Dan, although he doesn't answer. After Blair's wedding is ruined by the video of her proclaiming her love for Chuck and upon her discovering Louis only went through with the wedding to save face, she escapes with Dan to get a divorce. When Serena finds out, she becomes hurt that Dan was willing to help Blair and run away with her (The Backup Dan).
On Valentine's Day in Crazy Cupid Love, Blair decides the best way to celebrate the holiday is to get Serena and Dan back together. She plans for them to reunite at Nate's Come As You Were party, but instead she kisses Dan; which Serena witnesses. In Cross Rhodes, Dan and Blair enter into a relationship. Serena tries to act like she's okay with it, but it becomes obvious pretty quickly that she isn't. In the season finale, The Return of the Ring, Blair and Serena get into an argument about Dan and Chuck. As a result, Blair kicks Serena out of her penthouse. Meanwhile, she struggles with her decision about whether to be with Dan and Chuck. Wanting to hurt Blair after what she did, Serena seduces Dan at the Shepherd Divorce party and the two have sex. At the same time, Blair chooses to be with Chuck and goes to tell him but is rejected. Soon after, she breaks up with Dan, much to Serena's delight. However, Dan has no interest in being with Serena and tells her that he never wants to see her again.
In Monstrous Ball, Dan supports Serena after she is dumped by Steven Spence. After their sex tape is shown at the debutante ball, Dan and Serena share a friendly evening together. In Where the Vile Things Are, the two begin hanging out again and even go to the same bar that they went on their first date. At the end of the day, they have sex and tentatively get back together in Save the Last Chance.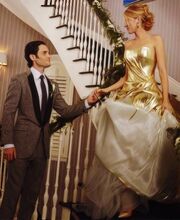 They plan to throw a Thanksgiving dinner together in It's Really Complicated, but things take a turn for the worst when Dan chooses to release a scathing serial article on Serena. He explains that he did so to make sure she understands that he isn't scared of her and doesn't want to be seen as less than her. Hurt, Serena breaks up with him and plans to move to Los Angeles. In The Revengers, Dan attempts to give her the last chapter of his serial series to convince her to stay in Manhattan. She reads it in the series finale, New York, I Love You XOXO, and learns that Dan was Gossip Girl all along. After they talk and he explains everything to her, she realizes what Dan did was truly write a love letter to them all about friendship and where they don't want to end up. In the time jump, Dan and Serena marry in front of their friends and family.
Memorable Quotes
[
]
Dan: You'd really go out with some guy you don't know?
Serena: Well, you can't be worse than the guys I do know.
-Pilot (1x01)
_______________________________
Dan (after they have sex): I'm really happy to be here with you, right now.
Serena: Wait.
Dan: What? What, did I do something wrong? I knew the hair thing was too much.
Serena: No, no. It's just, um...
Dan: Um? Um is never good. What?
Serena: I'm scared.
Dan: Of me?
Serena: No, well, yes, but... I was just, I never-
Dan: You've never... You're not...
Serena: No, no, I wish. It's just... nobody's ever looked at me the way you just did. In fact I don't think they looked at me at all.
-Victor Victrola (1x07)
_______________________________
Serena: This is your story.
Dan: Its the original. Right out of the spiral notebook.
Serena: I'm kinda scared to read it. What happened on October 8th, 2005?
Dan: I was accidentally invited to a birthday party. Where I met a girl. She only spoke two sentences to me but I've never forgotten her.
Serena: Wait, your story is about me?
-Roman Holiday (1x11)
_______________________________
Serena: I really want to trust you when you say those words, Dan. So maybe if I knew why, I'd stop being so scared of hearing them and afraid to say them.
Dan: Okay. Well, if you want to talk about why-
Serena: It has to do with my mom and her many marriages-
Dan: There. That's why. Because I actually like it when you interrupt me, which is often, by the way. I love you because you make no apologies about being exactly who you are: beautiful, smart, sexy as hell-
Serena: Now you're embarrassing me.
Dan: That's another reason. You're completely unaware of your effect on me. You're also unaware that you laugh like a four year old *Serena laughs* just like that. And I love you because you can be with someone like me and still be best friends with someone like Blair.
-A Thin Line Between Chuck and Nate (1x13)
_______________________________
Serena: I don't want to break up with you.
Dan: Maybe... maybe I want to break up with you. Maybe I can't just let it go. You lied to me over and over and it was easy for you.
-Much 'I Do' About Nothing (1x18)
_______________________________
Serena: Classy? Like you asking another girl out our first day back at school?
Dan: We were broken up!
Serena: So what Dan, it hurt! I loved you, and just because we broke up doesn't mean I can just turn it off like that.
-The Ex-Files (2x04)
_______________________________
Dan: It was meaningful, with you. It was the greatest night of my life.
Serena: Mine too.
-It's a Wonderful Lie (2x12)
_______________________________
Dan: Look, I get why Blair went after Rachel, but why you?
Serena: I felt like a fool. I thought you lied to me.
Dan: I told you nothing was going on.
Serena: I know.
Dan: So why were you so ready to believe the worst?
Serena: Honestly? I think a part of me wanted to. Dan, we keep acting like we can overcome anything.
Dan: Yeah, pretending none of it matters. Our parents dating. Sharing a brother. I mean, different colleges next year... it's over, isn't it?
Serena: Well, we had to try.
-Carrnal Knowledge (2x17)
_______________________________
Dan: You're a pretty tough one to shake.
-The Lost Boy (3x03)
_______________________________
Serena: Thank you for being the only person to believe in me. Even though you were wrong to.
Dan: I wasn't wrong to believe in you. I still do. I always will.
-Gaslit (4x10)
_______________________________
Dan: It's not your fault that I seem to drop everything just to make myself available to you.
Serena: I don't mean to take you for granted.. It's just, if we're being completely honest-
Dan: We are.
Serena: I think that maybe sometimes I test you. You know, I keep thinking that if things get too hard, you'll give up on me but you never do.
Dan: And I never will. If you really need me, ever, I'm there, but I think there's a reason you didn't insist I come with you over break. 
Serena: And why you didn't try and make me stay.
Dan: So where does that leave us?
Serena: One last shot... If we ever do jump in again, that'll be it. We either sink or swim, we won't get another chance.
Dan: So when that time comes, we better make damn sure we're ready.
-The Kids Are Not Alright (4x12)
_______________________________
Serena: Do you even remember the girl that you fell in love with? Or just that she got so drunk on Thanksgiving that she got grazed by a taxi, or that she got married in Barcelona, or she slept with not one but two of her professors?
Dan: I hate to break it to you, but those things happened.
Serena: It's not the things, it's how you wrote about them.
Dan: That's the point! Dylan Hunter is a judgmental dick, who can't even look himself in the mirror. My character comes off the worst of all of them. He puts off his writing, he misses job interviews, he ignores his grades, why? Because he cares more for a pretty blonde than he does his own future. And in the end, none of his friends are happy for his success, they all turn their back on him, and he deserves it!
Serena: Yeah. He does.
Dan: I need to find Blair, I gotta make sure she's okay.
Serena: We're not done here.
Dan: I just messed up her engagement and maybe her life.
Serena: And what about mine?
Dan: If you can't tell the difference between what I did to Blair and what I did to you, than maybe your portrayal in the book is more accurate than you thought.
Serena: That sounds exactly like something Dylan Hunter would say.
-Memoirs of an Invisible Dan (5x04)
_______________________________
Serena (to Dan): Because I know this may sound crazy or selfish or like I'm living in the past or something. But you were the love of my life, Dan. And I don't know.. I guess I just always thought I was yours too.
-The Fasting and the Furious (5x05)
_______________________________
Dan: We're Dan and Serena, you can tell me anything.
-Father and the Bride (5x12)
_______________________________
Serena: I love you, Dan Humphrey. Always have, always will.
-G.G. (5x13)
_______________________________
Dan: Serena, there is no us. There's only you. And now that our parents are splitting up, I never have to see you again.
-The Return of the Ring (5x24)
_______________________________
Serena: I told you I loved you and then you rejected me for my best friend!
Dan: You've rejected me for almost everyone on the Upper East Side.
-Where the Vile Things Are (6x06)
_______________________________
Serena: Well, do you remember that we said that if we ever jumped into a relationship again that that would be it? That we would only get one more chance? Are you sure that I'm the one person you want to be with?
Dan: Are you talking about Blair? Serena, yes. I'm sure. You are the one. Whether or not I've admitted it to myself, you have always been the one.
-Save the Last Chance (6x07)
_______________________________
Serena: You were supposed to be different.
Dan: I used to be. Got me nowhere. So now I'm the same.
-It's Really Complicated (6x08)
_______________________________
Serena: I have no interest in being psychoanalyzed by my evil biographer.
Dan: Serena, I know I've hurt you, but I still love you. Ive lost track of it at times, I've made mistakes, I've made massive, heartbreaking mistakes - but I have never stopped loving you. 
Serena: Well, excuse me if I don't fall for that, or you, ever again.
-The Revengers (6x09)
_______________________________
Dan: I overheard two girls talking about you, in your white dress, getting wet. One girl thought that you would be a laughing stalk, that everyone would be talking about you. And then her friend said "That's the point. You're no one until you're talked about."
Serena: So you came home and told all this to Jenny and that was the birth of Gossip Girl? You've had the power to reveal her identity this entire time.
-New York, I Love You XOXO (6x10)
_______________________________
Trivia
[
]
Dan and Serena met at Kati Farkas' birthday party when they were in ninth grade.
They have the longest running relationship on the series, spanning from the first to the last episode.