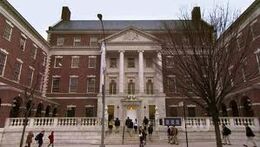 Constance Billard School for Girls is an exclusive private school located on the Upper East Side of Manhattan. It's run by Headmistress Queller and is the sister school of St. Jude's School for Boys. Constance brags that many of their alumni attend prestigious universities, many being Ivy League institutions.
Novel Series
In the Gossip Girl book series, all the main female characters: Serena, Blair, Jenny, and Vanessa all attend Constance.
Television Series
In the television series, Serena, Blair, and Jenny attend Constance and Vanessa does not. The school is mainly shown in seasons one and two, as all three girls still attend the school. In The Goodbye Gossip Girl, Blair and Serena, along with Blair's minions, graduate. Jenny has her senior year in season three, but it's revealed in Last Tango, Then Paris that she will graduate high school in Hudson, New York. It's briefly shown in Shattered Bass and The Wrong Goodbye in the fourth season when many characters attend a fundraiser held at the school. In season six, it's revealed that Steven Spence's daughter Sage Spence is a senior at the school.
Real Life
The exterior filming location for Constance is The Museum of the History of New York.
Notable Alumni
Class of 2009
Class of 2011
Class of 2013
Others
Staff
Community content is available under
CC-BY-SA
unless otherwise noted.