Cecily Brooke von Ziegesar (born June 27, 1970) is an American author best known for the young adult Gossip Girl series of novels.
Biography
Edit
Early life
Edit
Cecily von Ziegesar was born in New York City. Her childhood dream was to grow up to be a ballerina; she began lessons at age 3 and auditioned for the School of American Ballet at age 8, but was rejected. As a teenager, von Ziegesar commuted to Manhattan at 6 a.m. to attend the
. After graduating from Nightingale, von Ziegesar attended
before spending a year in
working for a local radio station. Von Ziegesar returned to the United States to study creative writing at the
, but dropped out shortly thereafter. 
Gossip Girl Edit
Main article: Gossip Girl (novel series)
Back in New York, while working at book-packaging firm
, von Ziegesar became inspired to create the
Gossip Girl
series, which follows the lives of privileged teenagers in New York. The series climbed to the top of
best-sellers list in 2002. A spin-off series,
The It Girl
, made the list in 2005. The Constance Billard School for Girls in
Gossip Girl
is based upon an exaggerated version of von Ziegesar's alma mater, Nightingale. She also culled events from the book from the lives of her extremely wealthy friends, as well as her own life as a perpetual gossip.
Out of the Gossip Girl series, only nine of the books (plus the prequel) were written by von Ziegesar herself. The other novels, as well as the books in The It Girl and The Carlyles series, were penned by ghost writers.
Television adaption
Edit
Main article: Gossip Girl (TV series)
The Gossip Girl series was adapted for television in 2007. The show premiered to mixed reviews and lost more than a million viewers from episode one to two, from 3.65 million to 2.55 million. The rest of the season's viewers went up and down, the highest being 3 million viewers for the final episode of the season and the lowest being 1.80 million viewers for episode eleven. Controversy and criticism surrounding the show surfaced due to the fact that it failed to show much of the books' plots, character personalities, and other major and minor facts, thus disappointing many fans of the novels. Von Ziegesar told ABC News that her major plot lines were there and that "at least it takes place in New York."
Personal life
Edit
Von Ziegesar resides in Brooklyn with her husband Richard, the Deputy Director of the Public Art Fund, their children, Agnes and Oscar, and their cat, Pony Boy.
[[fr:Cecily von Ziegesar|fr:Cecily von Ziegesar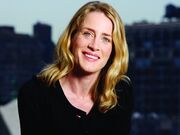 ]]
Community content is available under
CC-BY-SA
unless otherwise noted.