Obi-Wan Finale - The Loop
Play Sound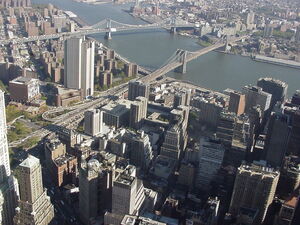 Brooklyn is the most populous of the five boroughs of New York and serves as the home of the Humphrey family in the Gossip Girl television adaption. Brooklyn, which stands as a contrast to the affluent Upper East Side, is also the home of Vanessa Abrams and her family.
Residences
[
]
Television series
[
]
Season 1
[
]
In the first season, Brooklyn is seen as the home of Dan Humphrey, his father Rufus and his younger sister Jenny. Dan's mother, Alison Humphrey, also once lived in Brooklyn but moved out of the family's loft to live in Hudson after leaving her husband. After his father's arrest, Nate Archibald temporarily goes to live with the Humphreys in Brooklyn as well.
Throughout season one, and for the remainder of the series, Brooklyn stands as a contrast between the middle class Humphreys and the upper class Upper East Siders.
Season 2
[
]
In season two, the Humphreys still reside in their Brooklyn loft.
Season 3
[
]
Upon the Rufus' marriage to old flame Lily van der Woodsen in season three, Rufus and Jenny move into the Van der Woodsen penthouse in Manhattan. Dan, however, remains in Brooklyn as he prepares to attend New York University and because he believes it to be easier than to live with his ex-girlfriend, Serena van der Woodsen.
Season 4
[
]
In the fourth season, Georgina Sparks and her son Milo move into the loft with Dan, whom Georgina claims to be the father of her child. When Georgina runs away, Vanessa moves in to help Dan raise the baby. However, after Georgina's return and the realization that Milo is not Dan's child, Dan and Vanessa begin to find it hard to live with each other. Once Dan learns the Vanessa was involved in the scheme to take down Serena, the two break up and Vanessa moves back in with her parents.
During this time, Rufus offers Jenny's old room to Ben Donovan after Serena asked him to. Ben only lives here temporarily, however, leaving Brooklyn by season's end.
Season 5
[
]
To be expanded.
Season 6
[
]
In the final season of the series, Rufus has moved back in the loft after the annulment of his marriage to Lily. It is revealed that Rufus has allowed Ivy Dickens to move in with him, as she has no where else to go, and the two enter into a sexual relationship in the season premiere.
By the five-year time-jump in the series finale, Rufus still lives in the family loft. Dan, however, has seemingly moved out as he and Serena van der Woodsen are wed in the final moments of the series. It is unknown where Dan and Serena will be residing upon their marriage, though it can be assumed to be somewhere on the Upper East Side rather than Brooklyn.
See also
[
]