'Gossip Girl' Profile: Blair Waldorf
Play Sound
"
Haven't you heard? I'm the crazy bitch around here
"

— Blair
Blair Cornelia Bass (née Waldorf, formerly Grimaldi) is a main character in the Gossip Girl series of novels and its television adaption, in which she is portrayed by Leighton Meester.
Blair has an ongoing up and down relationship with Chuck Bass, and after Serena van der Woodsen and Dan Humphrey, they have the second-longest relationship in the series.
Blair is regarded as the "Queen B" of the Upper East Side. She is best friends with Serena and good friends with Dorota Kishlovsky, Jenny Humphrey and Nate Archibald.
Along with Dan and Serena, Blair appears in every episode of the series.
Summary
Blair is the daughter of Harold and Eleanor Waldorf, respectively a successful lawyer and fashion designer. Her parents divorced, and her stepfathers include Roman Garrel and Cyrus Rose. After failing to build a future with Nate Archibald, Blair begins a relationship with Chuck Bass but later embarks in a failed marriage to Prince Louis Grimaldi throughout the duration of the series.
Blair's storylines often surround her struggle with constantly feeling as if she is in Serena's shadow and finding how she can shine in her own light. They also surround her romantic relationships, namely with Chuck and Louis.
Novel Series
In the novel series, Blair is the daughter of Harold Waldorf, a rich lawyer and Eleanor Waldorf, a wealthy heiress from an Upper East Side family. Blair's father was caught cheating on Eleanor with another man named Giles, which caused Eleanor to divorce him. Harold soon moves to France with Giles, leaving Eleanor and Blair on the Upper East Side. Blair grew up being best friends with Serena Van der Woodsen and Nate Archibald. Soon, Blair's mother meets Cyrus Rose, a rich architect. Blair can not stand Cyrus and wishes he and his son Aaron Rose would just disappear from their lives. But unfortunately for Blair, Cyrus and Eleanor get married and soon get pregnant with a little girl named Yale (Blair's choice). Blair is dating Nate Archibald in the first book until she finds out Serena slept with him, making her angry at both of them. She soon lets the anger go by book two and the three are all friends again. Later down the line, Blair gets into her dream school, Yale University, and graduates. While in college, she briefly dates Chuck Bass but it ends quickly. At the end of the series, she and Serena are at odds when they both date Nate until they both decide to let him go and move on with their lives. Blair loves shopping at Barney's, Bendel's, and Bergdorf's. She and her father both love shoes, their favorite designer is Christian Louboutin. She loves Audrey Hepburn and her favorite movies are Breakfast at Tiffany's and Roman Holiday.
Televison Series
In Pilot, Blair is shown to be in a relationship with Nate. Upon hearing Serena has returned, Blair attempts to have sex with Nate, but they ultimately don't. When the two girls meet for drinks, they agree to try and make amends but that ends when Blair discovers Serena and Nate slept together before she left. She hosts the Kiss on the Lips party, and does not invite Serena, and is unhappy to discover that she shows up anyway.
Blair attends the Bass' annual brunch, after a confrontation with Serena. She decides to seal the deal with Nate, and takes him up to Chuck's suite, where she is surprised to discover Serena waiting for Nate. After a fight that includes Dan and Chuck, she remains estranged from Serena and still with Nate (The Wild Brunch). In Poison Ivy, she wrongly outs Serena as a drug addict, but after discovering Eric van der Woodsen is the one in treatment, the girls make up. In Bad News Blair, she is invited by her mother to model for Waldorf Designs but is later passed over in favor of Serena. Hurt, she briefly argues with Serena but after talking with Dan, the two steal Eleanor's clothes and go out together.
Blair's dominance over Jenny Humphrey leads to the two engaging in a high stakes Truth or Dare game (Dare Devil), and also to her discovering Jenny snuck into the Masquerade Ball (The Handmaiden's Tale). In Victor Victrola, Blair discovers that Nate told Jenny (dressed as Serena) at the Masquerade Ball that he still loves her, and this causes the two to break up. Wanting to escape, Blair heads to Chuck's newly acquired club Victrola and ends up performing a burlesque dance. Afterwards, she ends up losing her virginity to him. She regrets it, and disinvites him from her seventeenth birthday party. He shows up anyway and reveals he has feelings for her. The two end up having sex again and Serena sees (Seventeen Candles). Serena reveals that she saw and gets the VDW's uninvited from the Waldorf Thanksgiving dinner. Blair also discovers that Eleanor uninvited Harold without telling her, but she ends up forgiving her (Blair Waldorf Must Pie).
She attends the Debutante Ball with Nate, and it makes Chuck extremely jealous. She fakes her virginity for him and they get back together (Hi, Society). When her father returns to the city for Christmas, she schemes to break him up with Roman but it fails and she decides to accept him after realizing Harold still loves her, too. On Christmas morning, she receives a text from Chuck telling her Nate is with him in Monaco and he may or may not spill on them sleeping together (Roman Holiday). When he returns, the two argue and it is accidentally captured by Vanessa Abrams, although she ultimately returns the tape to Blair (School Lies). In A Thin Line Between Chuck and Nate, Blair has a pregnancy scare and is unsure of who the father is. Chuck tips off Gossip Girl that Blair slept with both him and Nate, and Jenny confirms the rumor to him. Blair and Nate break up, and she almost moves to Paris but is stopped by Serena. As revenge, Blair ruins Jenny's birthday (The Blair Bitch Project). She teams up with Chuck and Nate to stop Serena's frenemy Georgina Sparks, although it doesn't go as planned (Woman on the Verge). Along with Dan, she successfully banishes Georgina and at Lily van der Woodsen and Bart Bass' wedding, decides to give Chuck a real chance. They plan to head to Europe together for the summer, but he chooses to stay behind in New York without telling her (Much 'I Do' About Nothing).
Blair returns to the US with a new boyfriend, Marcus Beaton and later delightfully discovers that he is royalty. After Chuck is unable to tell her he loves her, she decides to move on with Marcus (Summer Kind of Wonderful). When they return to New York, she throws a disastrous party in an attempt to meet Marcus' stepmother. Chuck sets her up so she says awful things to Catherine Beaton, but is able to redeem herself after she catches Catherine sleeping with Nate (Never Been Marcused). After several unsuccessful attempts at getting Marcus to sleep with her, she ends up kissing Chuck at a party during a blackout and Marcus sees. However, Blair is able to convince him to stay with her, much to Chuck's dismay (The Dark Night). In The Ex-Files, Vanessa discovers Marcus is sleeping with Catherine. She informs Blair, who breaks up with Marcus. After a fight with Dan, Serena takes back the queendom of Constance Billard, booting Blair back into the shadows.
Upset about everything, Blair attempts to ruin Eleanor's fashion show by not letting Serena sit in the front row and trying to get Jenny fired. However, Serena ends up modeling in the show and Jenny ends up being celebrated after saving it (The Serena Also Rises). Still fighting, Blair and Serena both end up visiting Yale University, Blair's dream school, for the weekend together. Because of Serena's charm, she is able to score an invite to Dean Baraby's private party and Blair doesn't. She manipulates her way in and reveals Serena killed a man. The two engage in a physical fight, but end up making up the next day (New Haven Can Wait).
In Chuck In Real Life, Vanessa uses the proof of Marcus and Catherine sleeping together to blackmail Blair into helping her save a bar in Brooklyn. Annoyed, Blair enlists Chuck to seduce and humiliate her in exchange for Blair sleeping with him. After seeing that Chuck might actually help her, she ends the deal but tells him they can have sex anyway. When he shows up, he tells her that they can only continue if she tells him she loves him. She doesn't, and he leaves. In Pret-a-Poor-J, after encouragement from Dan, Blair decides to tell Chuck she loves him at Rufus Humphrey's art opening. However, Dan discovers they used Vanessa and instills doubt in Blair before she does. The two end up ending whatever they have going on, but Dan tells Chuck that he caused the debacle. Blair meets Eleanor's boyfriend Cyrus, but decides she doesn't like him (Bonfire of the Vanity). She tries to take him down, but is outsmarted in the end by him which causes her to accept him, along with Harold's approval (The Magnificent Archibalds).
After Bart dies, Blair decides to reveal her feelings for Chuck but when she does, gets rejected. He eventually comes around, but then decides to leave to spare her any hurt feelings (O Brother, Where Bart Thou?). When he arrives back in the city with his uncle Jack Bass, Blair asks Jack not to tell Chuck they slept together over the holidays (In the Realm of the Basses). When Chuck acquires Bass Industries, Blair tries to celebrate him with a surprise brunch, but Jack sets Chuck up to be fired. Upset, Chuck takes it out on Blair causing her to distance herself from him (Gone with the Will).
After receiving a B by new teacher Rachel Carr, Blair hazes her, but is caught after Rachel informs Headmistress Queller (You've Got Yale!). As revenge, she spreads a rumor about Rachel romancing Dan, and it works; especially after Serena takes a photo of the two together at a restaurant. Blair uses the evidence to get herself back into Constance after being expelled, but accidentally reveals to Harold that she made the whole thing up and got lucky (Carrnal Knowledge). She is rejected from Yale in The Age of Dissonance and in turn begins a relationship with Carter Baizen. She also develops a new rebellious lifestyle, which only ends after Nate gives her a pep talk (The Grandfather). After the two get back together (Remains of the J), she makes a secret deal with William van der Bilt, Nate's grandfather, to get her on the Whitney Committee and in Tripp and Maureen van der Bilt's wedding if she can convince Nate to go to Yale. Her plan is ruined after Nate discovers William is the one who had his father Howard Archibald investigated and arrested. William reveals Blair's deal to Nate, but he forgives her (Seder Anything). She decides to give Chuck one more chance to reveal his true feelings to her, but he doesn't, as he feels he can't make her happy (The Wrath of Con). She attends prom with Nate and wins Prom Queen. Afterwards, she breaks up with Nate as he feels like her high school boyfriend (Valley Girls).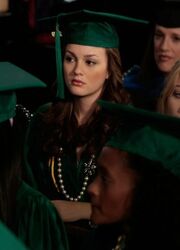 In the season finale The Goodbye Gossip Girl, Gossip Girl calls Blair a coward and reveals she slept with Jack, just as she and Chuck are about to finally be together. He then departs for Europe, but returns to New York and reconciles with Blair while declaring his love for her, and the two finally begin a committed relationship.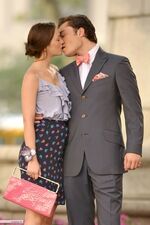 Blair begins NYU along with Dan, Vanessa, and Georgina, and is in a relationship with Chuck. She finds herself unable to conquer the school and becomes dissatisfied with her inability to become queen (The Freshmen). As an attempt to win over the school, she competes against Vanessa to give the toast at The Freshman Parents Dinner and uses Chuck to win. Vanessa sets her up to insult everyone at the dinner over the microphone, and Chuck discovers he was used (Enough About Eve). Still feeling unable to trust her, Chuck leaves her out of helping to plan the opening of his club. Hurt, Blair uses his uncle Jack to expedite his liquor license but eventually discovers it was fake. She informs Chuck, who already knew, and they use it to their advantage to garner press. A newly employed Serena becomes angry, as the scandal puts her job on the line. This begins a new feud between Serena and Blair. Wanting to make her jealous, Blair accidentally hires an escort to pretend to be her new best friend but gets rid of her after she discovers her profession (The Grandfather: Part II), and the two make up eventually (They Shoot Humphreys, Don't They?). After Chuck thinks his mother has reappeared (The Hurt Locket), Blair acts as his biggest source of support. After Elizabeth Fisher reveals herself as Chuck's mother indeed (The Lady Vanished), Blair also builds a friendship with her. After it's revealed that everything was an elaborate scheme conducted by Jack to steal The Empire (The Sixteen Year Old Virgin), Blair decides to save Chuck by taking Jack's offer to spend a night together in exchange for the hotel in Inglorious Bassterds. Jack reveals that Chuck knew about the deal and he was willing to sell her out for his hotel. Devastated, Blair breaks up with Chuck. In The Unblairable Lightness of Being, Chuck throws a pregnant Dorota Kishlovsky and Vanya a wedding to get close to Blair, and volunteers himself and Blair to be the happy couple that escorts them doing the aisle. However, Blair is still angry at Chuck and breaks down during the wedding, but is cheered up a little by Dorota. Still feeling ashamed of attending NYU, Blair pretends to be a student at Columbia until she discovers that Chuck applied her to the school behind her back and she will be attending there in the fall (It's a Dad, Dad, Dad, Dad World). Still wanting her back, Chuck gives her an ultimatum to meet him at The Empire State Building or else lose him forever (Ex-Husbands and Wives) and she swears she won't be there. However in Last Tango, Then Paris, she later decides to go but Dorotea ends up going into labor and she shows up late. She finds the flowers Chuck was going to give her and meets him at The Empire, unknowing that he had just slept with Jenny. They briefly get back together and he's about to propose when Dan finds him and punches him for sleeping with Jenny. Blair finds out then, and breaks up with him again. Two weeks later she leaves to spend the summer in Paris with Serena.
In the premiere Belles de Jour, Blair scores a date with Prince Louis Grimaldi. She also discovers Serena will be attending Columbia, which at first angers her but she eventually comes around to the fact. She finds out Chuck was shot before attending a ball with Louis, and skips it to find and convince him to not run away. Afterwards, she heads back to New York and promises Louis that he can always come find her there (Double Identity). Chuck returns to New York with his new girlfriend Eva Coupe and a jealous Blair breaks them up, causing Chuck to declare war on her (Touch of Eva). During their war, Chuck ruins Blair's chances at working as an assistant to businesswoman Martha Chamberlain (Goodbye, Columbia) and brings back Jenny to cause trouble (Easy J), but after that, they make amends. Serena and Nate make their truce officially by making the two create and sign a treaty. They do, and Dan, wanting revenge on Chuck and Blair for what they did to Jenny, steals it and embarrasses her at her birthday party (War at the Roses). This also sparks the beginning of Blair and Chuck's new physical relationship. This continues through The Witches of Bushwhack, when she confronts him at his Saints and Sinners party. They confess their love for each other and kiss in front of everyone, when Jenny dresses as Serena exposes them. However, Blair decides she can't be with Chuck until she becomes successful on her own. After discovering Juliet Sharp was behind Serena's apparent overdose, Blair teams up with Dan to expose her (Gaslit) and they end up in Connecticut, where they discover the truth. Afterwards, Blair, Serena, Nate, Chuck, and Dan spend Christmas together. Serena, Nate, and Chuck all leave town and Blair and Dan are left as the only ones from the group in the city (The Townie).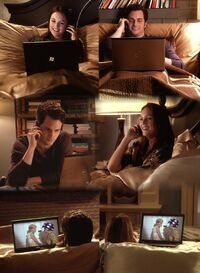 Blair and Dan both end up interning at W Magazine, where they engage in a competition to eliminate the other. Blair decides not to scheme against Dan, but he does against her and she loses her job. But when he discovers she worked hard for the job, he tells Epperly, their boss, that it was his fault (Damien Darko). After helping Epperly discovers that love was missing from her life, she recommends Blair to take over her position of power at the magazine (Panic Roommate). In an effort to prove herself, she sets up an interview with Chuck's new girlfriend Raina Thorpe, but she ultimately cancels to save Blair's feelings. Blair is devastated to discover that Chuck's feelings are not just business, but real. To help ease the pain, she and Dan end up spending Valentine's Day evening watching a movie together while on the phone (It-Girl Happened One Night). After taking on too much, she quits W (While You Weren't Sleeping) and her friendship with Dan continues to grow. The two share a kiss in Empire of the Son, but afterwards she goes upstairs and doesn't talk to him. In The Kids Stay in the Picture, Chuck finds out about the kiss and sets Dan up to show Blair that he isn't anything. Blair informs him that the kiss made her realize she wanted to be with Chuck, but that she knows he's not ready for a real relationship.
Louis returns to New York around the same time Serena discovers Blair kissed Dan. Serena tells Louis that Blair and Dan have been secretly dating for months, but the two are able to work it out and end up beginning a courtship (Petty in Pink). In The Princesses and the Frog Louis' mother Sophie Grimaldi arrives in town and tries to use Gossip Girl articles, courtesy of Serena, to break them up. However, Louis convinces her to give Blair a chance and she's invited to a ball. Chuck crashes the ball and announces his love to Blair, who doesn't want to hear it. Afterwards, she goes home and tells Serena that she knows she's ready to move on without Chuck. Louis overhears and proposes to Blair, who accepts. Blair goes to The Empire to tell Chuck. Devastated, he breaks a glass pane, terrifying Blair, who runs off. Eleanor and Cyrus return to the city to give Blair and Louis an engagement party. In The Wrong Goodbye, with the help of Cyrus, Blair wins Sophie over. Louis discovers Blair went to see Chuck after they got engaged and gives her an ultimatum: that she either reveal all her secrets and meet him at the Constance fundraiser or end it. Blair decides to meet him and reveal everything about her but is stopped when she gets a call informing her Chuck is on the roof of the construction site threatening to jump. She goes there immediately, where she finds Bass enemy Russell Thorpe waiting to burn the building with her in it to the ground. Chuck, Nate, and Raina track her down and are able to stop Russell before anything happens. Afterwards, Chuck apologizes to her for everything and they end up having sex. Blair decides that she wants to be with Chuck and heads to Constance to break up with Louis. Wanting her to be happy, Chuck stops her and lets them be together. They both confess they will always love each other and she leaves with Louis. A week later, Blair is to leave for Monaco with Louis when it's revealed that either her or Serena is pregnant.
In the premiere Yes, Then Zero, Blair almost ends things with Louis, but doesn't when she discovers he was helping Dan save her from humiliation. It's also revealed that she is pregnant. She meets her future sister in law Beatrice Grimaldi at the same time her morning sickness hits, and as a result is forced to reveal to Dan that she is pregnant. He promises to be there for her no matter what (Beauty and the Feast). Wanting to help her, he has her take a paternity test and after avoiding it for a long while, she eventually opens the results and discovers Louis is the father. She tells Chuck she is pregnant, and admits a part of her wishes it was his (The Jewel of Denial). When Dan's book Inside is released, her relationship with Louis is strained after he reads that she had sex with Dan. He later apologizes for letting it get to him, and the two make up (Memoirs of an Invisible Dan). She and Louis reveal her pregnancy to Eleanor, Cyrus, Sophie, and Beatrice in The Fasting and the Furious. After feeling rejected by her friends, she decides to move to Monaco and live by their rules. Wanting to get Blair and Louis out of the picture, Beatrice adds outrageous clauses to Sophie's custody contract. Louis separates himself from the family as a result, and also discovers Blair's paternity test results. Meanwhile, Chuck is acting like a good citizen, being charitable and nice. Blair is suspicious of this and seduces him to prove it's an act for her attention, but it's revealed Dorota set it up to help Blair move on (The Big Sleep No More). Blair finds out Chuck returned the engagement ring he bought for her, and it surprisingly devastates her (Rhodes to Perdition). After debating whether to stay with Louis or admit her feelings for Chuck, she ultimately decides in Riding in Town Cars With Boys to be with Chuck. The two are on their way out of town when they get into a serious car accident, and Blair loses her baby.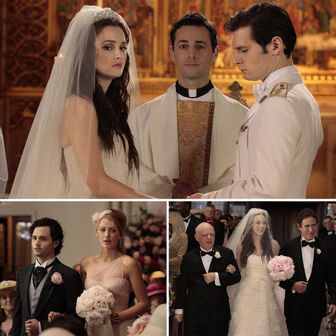 After the accident, there's a slight time jump and it's revealed Blair stayed with Louis and cut Chuck out of her life. She admits to Serena that she cut Chuck out because she made a deal with God that He would save Chuck if she kept her vow to marry Louis (The End of the Affair?). To keep her end of the deal, Blair marries Louis in G.G. However, she confesses that she still loves Chuck to Chuck at the wedding and it's all caught on video by Georgina and it ends up on Gossip Girl. Louis still marries her, but reveals at the reception that he only did so to save face and he doesn't love her anymore. Upset, Blair flees her wedding with Dan. She explains that she wants to go to the Dominican Republic to get a divorce from Louis. Due to a series of events, she is unable to leave and is caught by Sophie, who reminds her of the prenup and how the Waldorf's don't have enough money to pay it. Chuck also discovers there's a dowry and offers to pay it to save Blair, but she refuses, wanting to fix things on her own. She leaves for her honeymoon with Louis as scheduled to save her family (The Backup Dan).
When she returns from her honeymoon, it's Valentine's Day and she decides to help Dan and Serena get back together. While doing so, she realizes she has feelings for Dan and the two kiss, which Serena witnesses (Crazy Cupid Love). Soon after, they begin officially dating (Cross Rhodes) and Chuck finds out Dan sent the video of them to Gossip Girl during the wedding. He tells Blair, but she doesn't really care, as she's more focused on finding a way out of her marriage. She tells Chuck that he doesn't have her heart anymore. Georgina offers to get Blair a way out of her marriage in exchange for a favor, and she accepts (The Princess Dowry). Blair eventually finds out that Chuck paid her dowry and accuses him of trying to buy her back, although he denies it (It-Girl Interrupted).
In an attempt to rediscover who she is, she teams up with Chuck, Nate and Lola, to try and find a secret Diana Payne is hiding that may be linked to Jack and Chuck's past. She's able to help crack the code in her planner, and ends up with Chuck and Nate at a brothel. At the same time, Dan is invited to go to Italy for the summer and asks her to go with him. While at the brothel, she is the first to discover that Bart is still alive and never died. Dan tells her he loves her, but she doesn't reply (Raiders of the Lost Art). After pages from Blair's diary are posted on Gossip Girl (The Fugitives), she and Serena begin to fight. And in the season finale The Return of the Ring, she kicks her out of her apartment. Wondering if she still loves Chuck, Dan gives her an ultimatum to come to the Shepherds' divorce party and reveal how she feels. After weighing the pros and cons of both men, and being offered the CEO position of Waldorf Designs, she ultimately chooses Chuck. However, Chuck was kicked out of Bass Industries by Bart and doesn't want to be in Blair's shadow; so he refuses to get back with her. She leaves for Paris, but soon after follows Chuck to Monte Carlo to tell him she's willing to fight for him.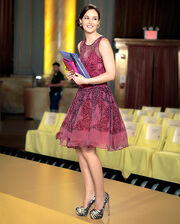 In the final season premiere Gone Maybe Gone, a flashback of Blair and Chuck having sex in Monte Carlo is shown, and it's revealed they made a pact to be together forever after she succeeds at Waldorf Designs and he defeats Bart. She goes on a mission with Chuck and Nate to find Serena, who doesn't want to be friends with Blair anymore. She decides to begin a line inspired by her Constance uniform and it exceeds expectations. She secures success at the company and fixes her friendship with Serena but is depressed when Chuck admits they can't be together because he didn't finish his end (Save the Last Chance).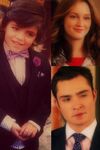 Wanting to help Chuck in The Revengers, Blair declares war on Bart with the help of Georgina, Serena, Ivy Dickens and Sage Spence. At the same time, Bart sends Chuck to Russia, planning for him to be killed on the way there. Luckily, Chuck finds his way out and saves himself. Later that evening, Blair walks in on Chuck's final confrontation with Bart on the roof. She witnesses Bart accidentally fall of the roof and die. In the series finale New York, I Love You XOXO, she and Chuck marry on a whim to gain spousal privilege in front of Serena, Nate, Dan, Georgina, Jack, Lily, Eleanor, Cyrus, and Dorota. In the time jump, she has become a success at Waldorf Designs and her and Chuck have moved into their own home, where they're raising their son Henry. It's also revealed that she works with Jenny, who has a line titled J for Waldorf.
Appearance and Style
Blair is considered one of the most beautiful people on the UES and is known for her notable style, partly attributed to being the daughter of a fashion designer. In the novel series, she is described as a striking brunette, and is portrayed that way in the show. Amidst season two of the TV series, she was voted the most beautiful female lead by readers of Glamour.com.[1] Additionally, her wardrobe continually garnered real-life acclaim during the early seasons.Though naturally beautiful, and much-admired, Blair, being an overachiever, enjoys making an effort to catch eyes, often wearing classic, Audrey Hepburn-inspired designer clothes.
Personality
"That girl is fiercely strong. Independent. Outspoken. Beautiful. Capable of anything...and no man or magazine should be able to take that away from her."
-Dan Humphrey
Despite leading a privileged and prominent lifestyle, Blair is generally characterized as a comical overachiever. At times, Blair's ambition can lead her to embrace a haughty and scheming side. Generally speaking, Blair is ruled by her insecurities, despite a confident exterior, usually caused by her feeling inferior to Serena. While she's regarded as being extremely knowledgeable, Blair seldom leaves success to chance, or to her own talents, and usually works to sabotage her competition. Typically, Blair finds rivals in most females, including (and sometimes especially) Serena, her best friend. A result of this insecurity, Blair does not trust easily, and when she does is always tremendously hurt when she feels betrayed. However, despite her manipulative and often ruthless behavior, she is revealed to have a sensitive and loving nature as well. This side is revealed time and time again especially when Blair must come to the defense of someone she cares about. Notably, this protective, warm side is evoked by Serena or Chuck. Blair also seldom gives up on those that she cares about, as evidenced when Chuck was grieving his father's death and she continually came to his aid, even when rebuffed. Romantically speaking, Blair generally finds herself conflicted by her own expected desires and what she truly wants. With the exception of Chuck (and Dan in season 5), Blair almost always pursues relationships with men who offer a status symbol (Nate having been a handsome Archibald, or the royal titles that accompanied Lord Marcus or Prince Louis). Despite her social-climbing agenda within her love-life, Blair seems happiest when she has someone to spar with, and is usually at her best with a romantic partner who challenges her.
Relationships (Novels)
Family
Romances
Relationships
Family
Romances
Photos
This character has a Photo Gallery!
Memorable Quotes
"I am not a stop along the way, I am a destination!" -Dare Devil (1x5)
_______________________________
"Lady Godiva, my only friend." -The Blair Bitch Project (1x14)
_______________________________
"Whoever said money doesn't buy happiness didn't know where to shop." -All About My Brother (1x16)
-
"The most important parties to attend are the ones you're not invited to." -All About My Brother (1x16)
_______________________________
"They say when you hate something you should slam the door in it's face." -Much 'I Do' About Nothing (1x18)
_______________________________
"Haven't you heard? I'm the crazy bitch around here." -Much 'I Do' About Nothing (1x18)
________________________________
"I know you may find this hard to believe, but not everyone wants to go to Yale because not everyone wants to be Blair Waldorf" -Serena
"Not everyone can be." -Blair, New Haven Can Wait (2x6)
-
"I'm sick of always looking like Darth Vader next to Sunshine Barbie." -New Haven Can Wait (2x6)
_________________________________
"Feelings never do make sense. They get you all confused, then they drive you around for hours before they drop you right back where they started." -The Wrath of Con (2x23)
_________________________________
"You can't make people love you, but you can make them fear you." -The Goodbye Gossip Girl (2x25)
_________________________________
"Signs are for the religious, the superstitious, and the lower class. I don't believe in them and neither should you." -Last Tango, Then Paris (3x22)
-
"Every voice in my head screamed "don't", but I didn't listen. I followed my heart because I love you. I can't deny that our past has been complicated but in the end love makes everything simple." -Last Tango, Then Paris (3x22)
_________________________________
"It takes more than even you to destroy Blair Waldorf." -Double Identity (4x2)
_________________________________
"Once men have tasted caviar, it baffles me how they settle for catfish." -The Undergraduates (4x3)
_________________________________
"If you really want something, you don't stop for anyone or anything until you get it." -Damien Darko (4x13)
_________________________________
"Fashion is the most powerful art there is. It's movement, design, and architecture all in one. It shows the world who we are and who we'd like to be." -Damien Darko (4x13)
__________________________________
"It seems as you've found your way, I've lost mine." -Riding in Town Cars With Boys (5x10)
__________________________________
"There might be some loves that seem bigger than others or more complicated or harder to let go of, but there's a reason they're not meant to be." -Father and the Bride (5x12)
__________________________________
"When and if we end up together, it has to be as equals." -The Backup Dan (5x14)
__________________________________
"We are not servants to our emotions. We can suppress them, ignore them, stomp them out like bugs." -Cross Rhodes (5x16)
__________________________________
"My whole life I wanted to be a princess. When I met Louis, it was this whole whirlwind of royalty and tiaras and it seemed like my dream was coming true. I mean, I may have married a prince but I never really got to be a princess." -It-Girl Interrupted (5x19)
__________________________________
"I love you. I'm in love with you. I have tried to kill it, to run away from it, but I can't. And I don't want to anymore." -The Return of the Ring (5x24)
___________________________________
"Jack is right. Chuck and Blair hold hands. Chuck and Blair go to the movies. You said you never wanted us to be boring.. well, we definitely aren't that now." -New York, I Love You XOXO (6x10)
____________________________________
Hobbies / Skills
Charity Work - Blair has shown a demonstrated interest in fundraising charity events. While attending Constance, she was chair of the Community Outreach Committee and likes to dedicate her time to helping children's charities.
Titles and Styles
Her Serene Highness Princess Blair of Monaco (January 21, 2012 - April 9, 2012)
Trivia
She took Art as a subject in school.
She takes a drug called Lexapro, which is used to treat depression and anxiety
She spends most of her summers in Southampton, Paris, or the Hamptons.
When she was 9, she tackled Senator Chuck Schumer's daughter for wearing a Harvard sweatshirt at a Yale football game
She used to be bulimic.
Her favorite restaurant is The Gramercy Tavern.
Her favorite restaurant in Paris is Rotisserie de Beaujolais.
She wears a size seven and a half shoe.
Her favorite actress is Audrey Hepburn and her favorite movie is Breakfast at Tiffany's.
Her favorite Thanksgiving dish (besides pie) is oyster stuffing.
She used to intern at Cyrus' law firm, Rose, Gerstein & Block.
She used to volunteer with NYC Fights Homeless and Save The Peregrine Falcons of Central Park.
She loves Cyndi Lauper.
Her favorite macaroons are from Pierre Hermé and her favorite Falke stockings are from Germany.
Photos
References